T-Mobile G2x Release Date Might Be April 15th
If a leaked document proves fruitful, T-Mobile might be launching the upcoming T-Mobile G2x 9 days from now on April 15th. While we had heard that the device might launch on April 20th, it appears that T-Mobile has bumped that date up.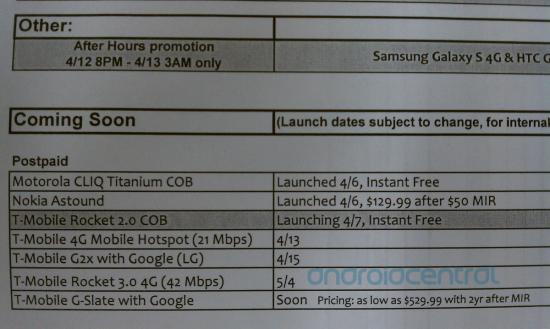 It should also be noted that just yesterday, the G2x's retail packaging was spotted which usually means that a release is right around the corner.
The  T-Mobile G2x was introduced a couple of weeks ago at CTIA and it will be the United States' version of the device known elsewhere as the LG Optimus 2X. The G2x will definitely be a phone that T-Mobile customers will want to look at, especially those that don't want to wait around for the HTC Pyramid aka HTC Sensation.
After all, it's not even a given that the HTC Sensation is going to be launching on American soil making the G2x that much more appealing.
The G2x will be coming with a dual-core Tegra 2 CPU, a pure vanilla version of Android 2.2 like the original T-Mobile G2, a 4 inch display with 480 x 800 resolution, an 8 megapixel rear camera, 1.3 front facing camera, and all the bells and whistles of a top tier smartphone.
Also, the document indicates that the LG G-Slate Honeycomb tablet will be heading to T-Mobile 'soon.' We had heard that it would be launching on the same date at the G2x, so there is a distinct possibility that we could see the G-Slate launch on the 15th as well.
(Via Android Central)
—
T-Mobile G2x Hands-On
LG G-Slate Honeycomb Tablet Hands-On

As an Amazon Associate I earn from qualifying purchases.