T-Mobile Galaxy Note 2 Launch Date Looks Good for October 24th
Evidence now suggests that T-Mobile, and maybe other carriers as well, might be planning on launching the Samsung Galaxy Note 2 on October 24th, the same day that Samsung is scheduled to show off the Galaxy Note 2 at an event in the United States.
TMoNews unearthed an internal screenshot that seems to indicate that T-Mobile is planning on launching the Galaxy Note 2 on October 24th which again is the same day that Samsung will be taking the stage on New York City to show off its new phablet device to the U.S.
What's not clear is whether this is just a launch date, which would mean we'd get details about its release date and pricing, or if it's an actual release date where T-Mobile and presumably other carriers will release the phone outright to the public.
Read: Samsung Galaxy Note 2 U.S. Release Date: What to Expect.
The report seems to be leaning on a release date and that's entirely possible as U.S. Cellular already has its device up for pre-order with a presumed shipping date coming by the end of October and AT&T was already rumored to be releasing the phone in October as well, though that date fell before October 24th. What's clear is that a release in the U.S. is close, it's just not clear how close it is.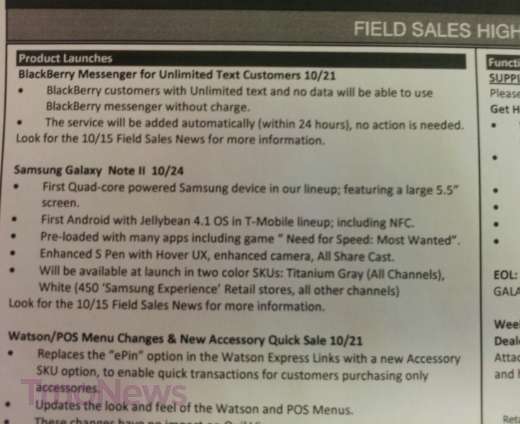 We aren't expecting October at this point but maybe Samsung accelerated its plans.
October 24th though looks like it's set to be the U.S. launch date of the Galaxy Note 2 in the United States and we are all but certain to see the devices for AT&T, Sprint, T-Mobile, U.S. Cellular and Verizon revealed.
Read: Samsung Galaxy Note 2 U.S. Launch Date: What Not to Expect.
We haven't heard about any release date or pricing for any of the devices which is what makes this evidence surrounding the T-Mobile Galaxy Note 2 so intriguing. A late October release is likely what U.S. customers are after and it would be nice to see Samsung release the device before its announced mid-November release date.
The Samsung Galaxy Note 2, originally announced in August, is Samsung's new 5.5-inch phablet which sports a HD display, quad-core processor, Android 4.1 Jelly Bean out of the box and 4G LTE data speeds on all five carriers in the U.S.
T-Mobile doesn't yet have a 4G LTE network in place but the carrier made sure its device was future proof and it will work with its 4G LTE network when it arrives next year.

As an Amazon Associate I earn from qualifying purchases.