T-Mobile Galaxy Note 2 Pictures Surface
The Samsung Galaxy Note 2 for T-Mobile has surfaced in several images ahead of its presumed launch on October 24th in New York City.
TMoNews uncovered several photos which clearly depict the T-Mobile Galaxy Note 2. We see carrier branding and the Galaxy Note logo clear as day at the bottom of the device. So unless this is a clever fake, what we are looking at here is very likely the Galaxy Note 2 variant that is heading to T-Mobile.
This should come as no surprise because we already know that the Galaxy Note 2 is heading to T-Mobile at some point in the future, possibly during the month of November.
Read: Samsung Galaxy Note 2 U.S. Launch Date: What to Expect.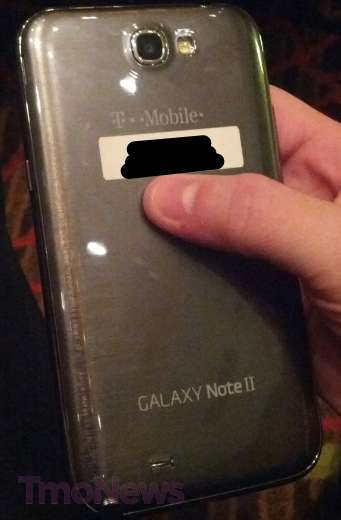 Samsung currently has an event slated for October 24th in New York City where the company will likely debut all five variants of the device which will be heading to AT&T, Sprint, T-Mobile, Verizon and U.S. Cellular.
The photos don't reveal anything new but that's not an issue because the T-Mobile Galaxy Note 2 is already out in the open thanks to FCC documentation and the initial U.S. Galaxy Note 2 announcement.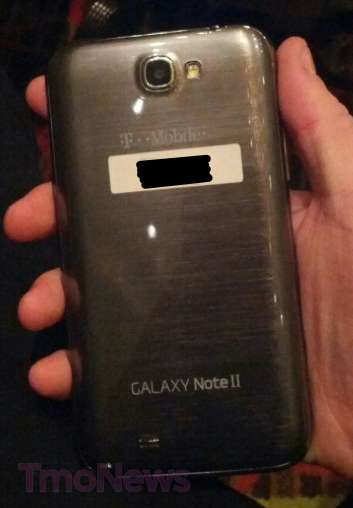 T-Mobile's Galaxy Note 2 will be exactly the same as the international version of the device which means that it will offer a 5.5-inch HD display that will allow for users to write and draw using the Galaxy Note 2's improved S-Pen stylus. It will also feature a quad-core processor, 4G LTE data speeds, two cameras, and of course, Android 4.1 Jelly Bean which is Google's latest piece of software.
Read: Sprint Galaxy Note 2 Release Date Gets Closer.
A release date for the U.S. Galaxy Note 2 will likely come in either October or November. U.S. Cellular earlier announced that its Galaxy Note 2, which went up for pre-order last month, would be out this month. Samsung has said November which means we likely won't find out fore sure until October 24th.
U.S. Cellular will be offering up the device for $299.99 on-contract, a price that will likely come attached to the AT&T, Sprint, T-Mobile and Verizon models as well.
The Galaxy Note 2 and it's massive screen, stylus and 4G LTE data speeds will be attractive to those that want to use a phone, like a tablet, while on the go.

As an Amazon Associate I earn from qualifying purchases.