T-Mobile Galaxy Note Launch Takes Another Bizarre Turn
The elusive T-Mobile Galaxy Note has made an appearance on T-Mobile's official Facebook page, even though the carrier has yet to confirm the device's existence or give the Galaxy Note an official release date.
T-Mobile's Galaxy Note has made an official appearance on T-Mobile's Facebook page, showing itself on a banner for a contest the carrier is hosting the for Samsung Galaxy S III.
The Galaxy Note's presence on T-Mobile's Facebook page, first noticed by TechnoBuffalo, is just another bizarre turn in road that has been littered with them.
T-Mobile's version of the device has leaked out on numerous occasions in the past. However, in recent weeks, the leaks have picked up steam.
Read: T-Mobile Galaxy Note Release Date, Specs, News and Rumors.
Accessories for the Galaxy Note have started to arrive in T-Mobile owned retail locations. The device has shown up in an official advertisement for Galaxy devices. It has even appeared in the form of support documents on T-Mobile's website.
And now, it has appeared on T-Mobile's Facebook page.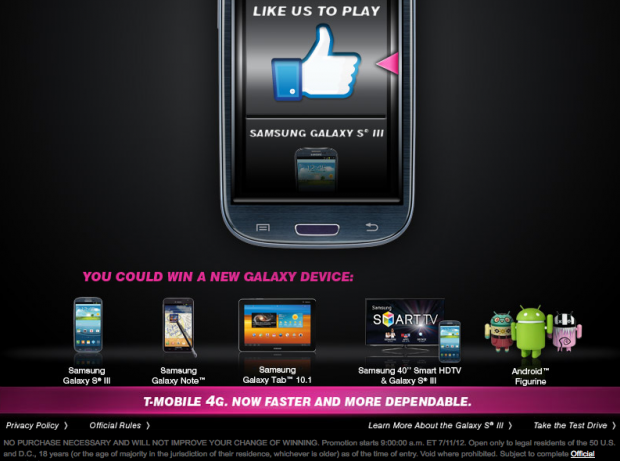 However, for whatever reason, the carrier has not yet announced availability or even confirmed the device's existence. Strange, considering how out in the open the device is.
Originally July 11th was rumored to be the device's release date. However, today has come and gone without an announcement. Th new release date is said to be August 8th although nothing has been confirmed.
https://www.youtube.com/watch?v=FvH6vbhOs6Y&feature=player_embedded
T-Mobile's Galaxy Note is rumored to include the same S-Pen stylus, Android 4.0 Ice Cream Sandwich, a dual-core processor, an 8MP camera and the same 5.3-inch display that puts the device into the phablet family of devices rather than in the tablet or smartphone categories.
It'll likely be the HSPA+ speeds that separate it from AT&T's 4G LTE version of the Galaxy Note.
Samsung is also rumored to be putting out another new Galaxy Note in the Galaxy Note 2 which is rumored for an August unveiling at IFA in Germany.
That device is said to improve on just about everything from the Galaxy Note and is even rumored to boast a 5.5-inch display.

As an Amazon Associate I earn from qualifying purchases.