T-Mobile Galaxy Note Release Date, Specs, News and Rumors
As of now, the 5.3-inch Samsung Galaxy Note phablet is only available in the United States on AT&T's 4G LTE high-speed data network. However, that that might change very soon as a T-Mobile Galaxy Note appears poised to arrive sometime in the days or weeks ahead.
T-Mobile has yet to announce anything official but from a number of leaks, it's clear that the carrier is up to something and that something appears to be a Galaxy Note release in the near future.
Without T-Mobile's help, the Galaxy Note has seen success on a larger scale than many foresaw when the device first launched back in 2011. The Galaxy Note has been on AT&T's 4G LTE network since the beginning of 2012.
And while T-Mobile's launch could propel the Galaxy Note's success to new heights, it also comes at an odd time. Samsung appears to be gearing up to launch the Samsung Galaxy Note 2 this fall, a launch that could make the T-Mobile Galaxy Note a dud.
Still, there are many consumers anxious to get the original Galaxy Note on T-Mobile's network and so, we want to share what we know about the launch thus far.
T-Mobile Galaxy Note Release Date
There have been T-Mobile Galaxy Note rumors swirling for several weeks now. One possible release date lands in July and one is in August. Unfortunately, T-Mobile has yet to confirm anything which means that the device's release date remains a complete mystery.
CellPhoneSignal reported that the Galaxy Note would hit T-Mobile on July 11th. That appeared to be spot on until a leaked document from TMoNews revealed that T-Mobile might have "delayed" the device until August 8th.
With July 11th fast approaching and no announcement from T-Mobile, a July announcement is looking bleak.
In any event, it seems that the device is coming soon. T-Mobile Galaxy Note accessories have started to arrive in stores and the Galaxy Note has appeared in an official T-Mobile promotional poster.
T-Mobile Galaxy Note Form Factor
While T-Mobile has yet to reveal the device, we've seen it appear in a press image that revealed that the device will come with the same form factor as AT&T's Galaxy Note model.
That means that it will be coming with a form factor that features a big footprint at 5.8 x 3.3 inches. It's big but it's also thin. The Samsung Galaxy Note measure in at just .38 inches thin which is nearly as thin as the Galaxy Nexus.
It's also light and weighs 6.3 ounces, just a little heavier than Samsung's Galaxy Nexus smartphone.
T-Mobile Galaxy Note Screen
The T-Mobile Galaxy Note will likely keep the same 5.3-inch Super AMOLED display found on the AT&T version of the Galaxy Note.
The Galaxy Note sports 1280 x 800 pixel resolution, which translates to 284.8 ppi (pixels per inch). The display is well done, especially for a display at this size and users will be able to read text extremely clearly.
It also works well outside in the sunlight and viewing angles are fantastic.
T-Mobile Galaxy Note Specs
T-Mobile has yet to announce the internal specifications of the Galaxy Note but a leak has revealed at least some of the features that will be aboard the device when it arrives.
The T-Mobile Galaxy Note is said to feature a dual-core 1.5GHz processor, an 8GB rear camera capable of recording 1080p video, a front-facing camera that is 2MP in nature and it will run on T-Mobile's HSPA+ network.
https://www.youtube.com/watch?feature=player_embedded&v=FvH6vbhOs6Y
It's unclear which HSPA+ network it will run on, HSPA+ 42 or HSPA+ 21 but we assume it will be compatible with the faster of the two which is T-Mobile's HSPA+ 42 network.
It won't pull down speeds that are on par with 4G LTE but it's still quick nonetheless.
As for its operating system, T-Mobile's Galaxy Note will run Android 4.0 Ice Cream Sandwich out of the box, so, no waiting for the update to arrive.
T-Mobile Galaxy Note Camera
The Samsung Galaxy Note on AT&T packed a pretty good camera and we expect the same out of T-Mobile's variant. It has an 8MP camera in the rear that is capable of recording 720p and 1080p 30fps video.
It also offers a 2MP front-facing camera for video chatting purposes and it's better than most front-facing cameras found on Android smartphones.
T-Mobile Galaxy Note Price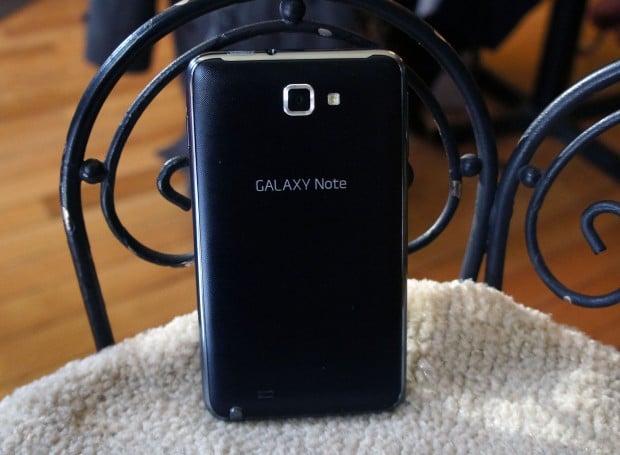 Sadly, the price of the Galaxy Note is now unknown. T-Mobile hasn't revealed anything yet and there are no leaks to speak of. AT&T offered the Galaxy Note for $299.99 on-contract originally and T-Mobile is known to charge a premium for its devices. Just look at the Galaxy S III.
However, because the Galaxy Note is so late to the party, we can't see T-Mobile charging anything higher than $250 on-contract for the device and even then, that would be pretty steep.

As an Amazon Associate I earn from qualifying purchases.