T-Mobile Galaxy S3 Arrives in New Color
Back in 2012, the year that T-Mobile released the Samsung Galaxy S3, the carrier made the device available in two colors only. Now, six months after the device launched, T-Mobile has added a new color to its Galaxy S3 stable giving customers more choice then they've ever had before.
Read: Galaxy S3 & Galaxy Note 2 Set for T-Mobile's 4G LTE Network.
Even with the Samsung Galaxy S4 seemingly on the way, possibly as soon as next month, T-Mobile and Samsung have released a brand new color for the carrier's flagship Android smartphone, the Galaxy S3.
Originally, the device was only available in two colors, pebble blue and white but now, the carrier has added an aluminum gray color to the mix, something that should excite consumers who may have been planning on snagging T-Mobile's aging smartphone.
The addition of the gray Galaxy S3 comes on the heels T-Mobile's recent announcement at CES 2013 in Las Vegas where the carrier confirmed that it would be introducing a 4G LTE version of the Galaxy S3 to its network in the coming days. T-Mobile confirmed that its 4G LTE network is slated to hit Las Vegas, its first market, at some point in January though the carrier has not yet said when it will arrive exactly.
Read: Galaxy S3 Android 4.1.2 Update Eludes U.S. Customers.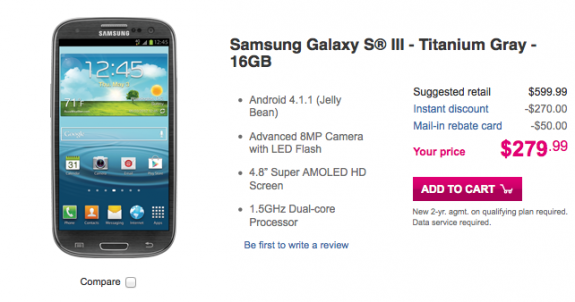 T-Mobile though does say that the aluminum model, at least the one on shelves right now, is HSPA+ 42 only, confirming that tidbit to TMoNews. That's a bit of a draw back considering how close T-Mobile is to launching its new network.
The launch also comes shortly after Samsung debuted its new colors for the Samsung Galaxy S3 Mini and after it announced new products at CES 2013 including a flexible display as well as the Exynos 5 Octa processor that may be coming in the Galaxy S4.
Samsung's Galaxy S4, which will more than likely come to T-Mobile, is rumored for a launch at Mobile World Congress in late February. However, thus far, Samsung is remaining silent about its features and its release date.