T-Mobile Giving Free Data To Switchers & Customers 
Once again T-Mobile is putting the screws to AT&T, Verizon Wireless and Sprint. Today, the company announced that it would begin giving out  a year of free 4GLTE internet access to users who are able to convince their friends to switch to its network.
To be clear, both the T-Mobile subscriber and the user switching to T-Mobile get that year's worth of unlimited 4G LTE connectivity. Getting that same unlimited data would normally cost new T-Mobile users $80 a month with unlimited talk, and text. In effect, T-Mobile is bribing users way from it's rivals with the promise of free data for an entire year.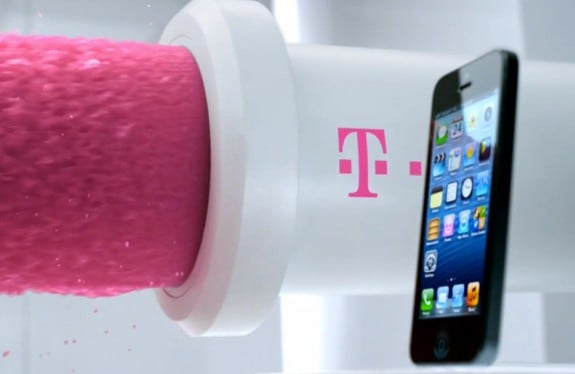 In announcing the changes, T-Mobile makes it pretty clear that it's going after Sprint's users hard. Part of that has to be that Sprint is the nation's third-largest wireless carrier and only true rival to T-Mobile at this point. That being said, the press release indicates that Sprint's decision to introduce new family pricing invoked this attack. That new plan made having a family on Sprint's network cheaper, but Sprint decided not to include its longtime users in on the deal. The result was a small but passionate number of users all bashing Sprint for not showing any appreciation for the users it already has. The situation was almost a perfect setup for T-Mobile to launch an Un-carrier initiative to exploit.
At its core, Un-carrier is all about using the mistakes of larger wireless customers as motivation for change that'll impact users lives. At least, that's the message T-Mobile is hoping the Un-carrier initiative drives home.
"It continues to amaze me to see the old carriers failing to listen to their customers — or reward them for loyalty. That arrogance and indifference has defined the U.S. wireless industry for too long. We're changing all that. In fact, this entire Un-carrier consumer movement is built on the simple act of listening to customers," T-Mobile CEO John Legere said in today's press release.
T-Mobile users who convince a friend to take a "lifeline" — T-Mobile is actually calling it that — will get that unlimited data for a year if they don't already have it. If they do, they'll still benefit. The company says that it'll knock $10 off those current unlimited customer's bills for the next year.
For current T-Mobile customers taking advantage of the deal is pretty easy. Starting August 29th they'll be able to report anyone they sent a referral to on T-Mobile's website. to successfully report the lifeline, users will need to provide their T-Mobile phone number and the phone number of the user who is looking to switch over. The user planning to switch then has a month to do so in order for bother users to get that free LTE data. After a successful switch the $10 credit or free data should start immediately.
All told, this deal is another valid reason for users to consider switching to T-Mobile. In recent months it launched an iPhone free trial program for users to test out its network, made a small amount of data available to tablet users at no charge and decoupled the cost of buying a smartphone from maintaining service. The company even partnered up with Rhapsody to include a subscription music service with its Unlimited wireless plan. At the announcement the company also revealed that users would be able to stream music from a selection of music services without it counting towards their used data allotment.
Read: Why Switch to T-Mobile? Jump Un-carrier & More
T-Mobile says that both users taking advantage of these will need to keep their accounts in good standing in order to receive the credit. Once signed up, they'll also need to be careful not to switch their plan. At some point, the deal will end, but T-Mobile isn't saying exactly when.

This article may contain affiliate links. Click here for more details.