T-Mobile HTC One S Review
The HTC One X and HTC EVO 4G LTE may be getting the lion's share of attention from Android lovers these days, but there are two other handsets in the HTC One series coming out soon as well.
The middle child of the group, the HTC One S, is set to go on sale April 25th for $199 on T-Mobile. That price is with a $50 mail-in rebate and a 2-year contract. Off-contract it will run you $549.
Though the One S isn't the flagship of the line that doesn't make it an also-ran. The Super AMOLED display, speedy processor, Beats Audio and fancy camera make it a contender amongst Android superphones. Plus it's running the newest version of Google's operating system (4.0 Ice Cream Sandwich) with one of the most well-designed user interface skins on top (Sense 4).
T-Mobile customers have a sweet choice in the One S, but is it good enough to attract buyers away from the One series siblings on AT&T and Sprint? Read our full review and decide for yourself.
Pros

Solid, attractive, comfortable design
Beautiful display
Sense 4 usable and speedy
Good performance
Fast camera

Cons

Lots of pre-loaded CRAPPS
No removable battery
No microSD slot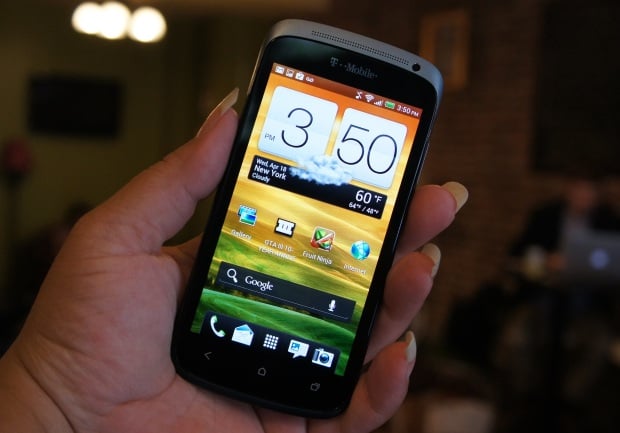 HTC One S | $199 | T-Mobile

HTC One S Review Guide

Related HTC One S Review Articles

Buy the HTC One S
Design
The One S has a distinctively HTC look, sporting similar lines to other recent handsets by the manufacturer (HTC Rezound, HTC Rhyme). The curved edges make it very holdable and easy to slip into a tight pocket.
With a 4.3-inch display, a 5.2 x 2.6 x 0.31 inch footprint and a light 4.2 ounce weight, the One S feels more like a "normal" sized phone when compared to the One X, Galaxy Nexus, and Galaxy Note and their 4.6 – 5.3-inch screens.
The unibody design features anodized grey aluminum with just a hint of blue to it, aided by the blue ring around the camera lens on the back. This coloring and the overall elegance of the design achieves a look that will appeal to both men and women.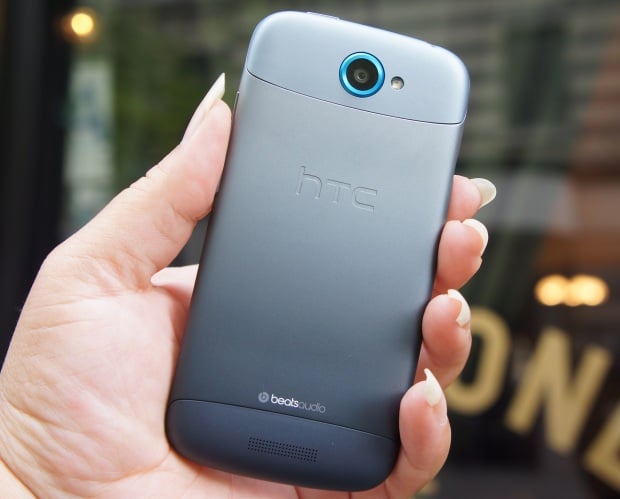 Given the slightly ham-fisted approach toward designing a phone for women as represented by the HTC Rhyme, it's nice to see the company steering back toward less condescending waters.
This design approach has some drawbacks: no removable battery and no microSD card slot.
HTC One S Display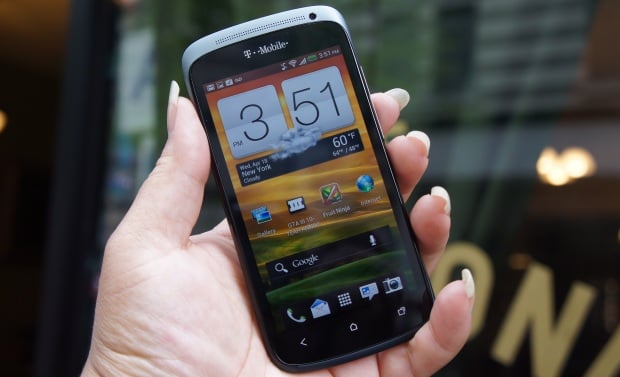 The 4.3-inch Super AMOLED display is bright and beautiful with wide viewing angles and makes a great platform for the eye candy Sense 4 offers up. You get a 960 x 540 pixel resolution; perfect for a screen this size using this operating system.
Corning's Gorilla Glass protects the screen, so users don't have to worry too much about scratching the surface under normal conditions. That doesn't mean the glass is shatter-proof, but it's pretty tough.
With this type of display, the phone is usable with brightness turned down very low when indoors. Out in sunlight I had to bring brightness up to between 80% and 100% for best results. At this brightness the screen is visible, but the battery loses juice much faster.
So far, the display is the biggest battery drain.
HTC Sense 4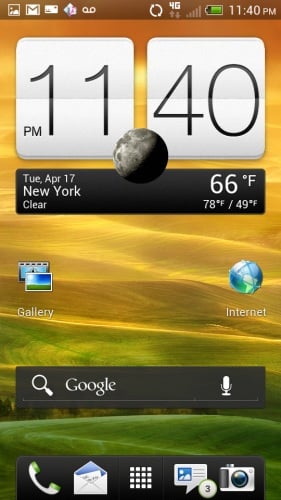 The One S runs on Android 4.0 (Ice Cream Sandwich) with the HTC Sense 4 skin/user interface on top. Sense is one of the most extensive skins for Android devices right now, which is either a good or a terrible feature depending on your point of view.
True fans of stock Android won't dig this phone, period. Not only does Sense change the look of the operating system, it actually tweaks some of the core functionality.
The saving grace is that though Sense is all up in your face, it's there in a good way. Sense aims to make using Android a smoother experience. It does so by putting the functions and features you like just one or two taps away or by streamlining the process of personalizing your Android experience.
For example, Ice Cream Sandwich changed the way users access widgets to put on the Home screen. Instead of tapping and holding on a blank space on a Home screen, you choose a widget from the App drawer. Apparently the devs at HTC don't like this, so they reinstated the tap and hold function and hid the widget browser in the app drawer.
I'm a big fan of the Lock screen on HTC Sense since users can personalize which apps show up there. To quickly launch from the Lock screen, simply drag the app into the ring.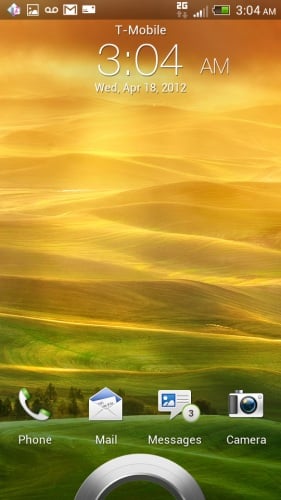 Thanks to the internal specs, Sense doesn't slow Android down the way some skins can.
HTC One S Apps
Aside from the usual core Google apps there are some standard HTC apps as well. I'm a fan of the souped-up Clock app, Friend Stream (ties together multiple social networks), Notes (hooks up to Evernote), HTC Watch, and Flashlight.
The HTC Hub is also on board, providing an (unnecessary) second app market as well as a place to download more HTC personalizations like themes.
T-Mobile also saw fit to pre-load a bunch of apps, most of which are CRAPPS. Other than My T-Mobile, T-Mobile NameID, and T-Mobile Hotspot, the rest are mainly there to get you to buy stuff or services.
Granted, T-Mobile TV may appeal to those who want to watch the latest episodes of popular shows on the One S. But the GameBase, 411 & More, More for Me and T-Mobile Mall apps all seem aimed at putting superfluous stuff in your face. Plus, you can't uninstall them.
Useful third-party apps include Polaris Office, Lookout Mobile Security, DropBox (25GB of free space for two years), Slacker Radio, and Zinio.
Performance and Hardware
Inside, the HTC One S packs a 1.5GHz dual-core Qualcomm Snapdragon S4 processor and 1GB of RAM. This combination means one thing: speed.
That's definitely what you get with this phone. The handset handled everything I threw at it from power multitasking with up to 12 apps, opening large documents in Polaris Office, and playing HD video. Even though Sense 4 is a pretty involved skin, it didn't bog down the system at all.
When playing games like Fruit Ninja and Temple Run the One S always responded to my swipes, even as the screen got somewhat dirty. Switching between apps, Home screens etc. also felt snappy.
The only bottleneck I experienced was T-Mobile's (HSPA+) 4G network. My review unit often had an inconsistent signal on the network. HTC reps assure us that these issues won't be faced by customers. I'll update this review once the handset starts seeing normal speeds.
HTC One S Battery Life
With medium to heavy usage, the One S lasted between 10 and 13 hours before needing a charge. This is without Wi-Fi connected most of the time, so the phone had to rely on T-Mobile's network for connectivity.
My typical usage includes playing games, switching between multiple apps, listening to music for up to four hours a day, watching minimal video, and talking on the phone for about 45 minutes a day. The One S pulled data for four social networks and two email accounts in the background.
I keep the brightness down to the lowest usable level on each phone I test, and on the One S this was at or below 10%.
Call Quality
The people I called on landlines and mobile phones on various networks reported that my voice came through clearly from the One S, but the quality sounded as if I was using a Bluetooth headset or as if there was an extra layer between myself and the phone.
Callers voices came through clear but not crystal via the earpiece and the speaker pumped plenty of volume for hands-free calls.
Beats by Dr. Dre Audio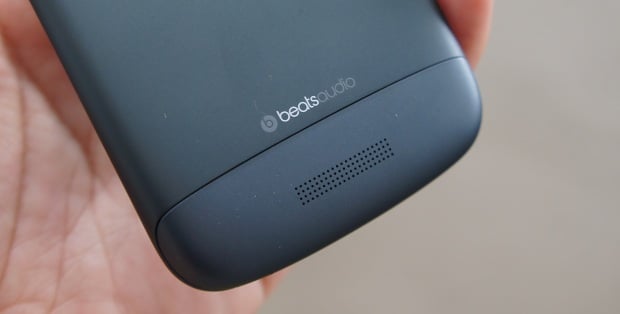 HTC's partnership with Beats Audio means a pleasant and noticeably better aural experience on the HTC One S over phones with average audio quality.
The Beats enhancements only kick in with headphones, but they now turn on whenever media audio plays. This includes games and video in addition to any music app. Gone is the odd restriction we saw on the HTC Rezound.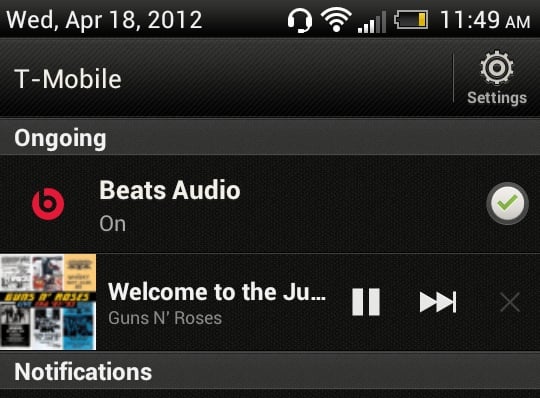 Audio quality is nice and full both on the top and bottom, though there is a definite favoring of bass. Not a surprise, given the history of Beats Audio. While these enhancements may still be nothing more than fine-tuned equalizer settings, those of us who don't know how to tweak an EQ appreciate the phone doing the work for us.
The only major drawback to using the One S as my only music player is that there's no expandable memory. 16GB won't even hold half of my music collection, and streaming only gets me so far.
HTC One S Cameras
The 8MP rear-facing camera on the One S is one of the fanciest you'll find on a smartphone. It features a 28mm wide-angle f/2.0 lens – numbers sure to impress you photography enthusiasts out there. For the average mobile photographer, the gist s this: you get a better lens and sensor, which means images should look great even without the best natural lighting.
For those times when there isn't enough light, the camera can rely on a "Smart LED" flash.
Even if you don't know your ISO from your White Balance, the camera app makes it easy to adjust for better shots. It's not as extensive as some third-party camera apps, but does include some nice pre-sets and scene modes.
The shutter is nice and fast and the One S takes and saves images in a second. For capturing fast-moving subjects, users can hold down the shutter button for continuous shooting mode.
Outdoor pictures look great, but indoor shots have some noise and a lack of sharpness that makes for less than great images. Though with more settings tweaks I could probably take better pictures if I knew more about photography.
One of the best aspects is the app's ability to shoot video and take pictures at the same time. While filming, just tap the shutter button to grab a quick still.
The front-facing 0.3MP camera takes dark, muddy pictures and doesn't look that great during video chat.
Is the HTC One S Worth It?
For $199 T-Mobile customers get an attractive, well-designed smartphone that's fast enough to keep up with even the most intense Android users plus a good camera plus a multimedia player with an impressive aural pedigree. No, this isn't a flasgship phone, but it's also not a bargain basement model to "settle" for.
Still, the fact that the HTC Evo 4G LTE costs the same, will run on a speedier network (someday), and has all of the good qualities of the One S and then some will probably draw consumers to the Sprint camp. Same argument for the HTC One X over on AT&T.
Sticking with T-Mobile? Then the HTC One S is a great choice.
HTC One S Gallery

As an Amazon Associate I earn from qualifying purchases.