T-Mobile Increases Prices on Popular Android Smartphones
T-Mobile USA, the nation's fourth largest carrier, has raised the prices on a number of popular Android smartphone, including the myTouch 4G, the T-Mobile G2, and the new Samsung Galaxy S 4G. Prices for all three smartphone models are now up by $50 on a two-year contract with the carrier. Other phones have seen price changes as well on the carrier's lineup.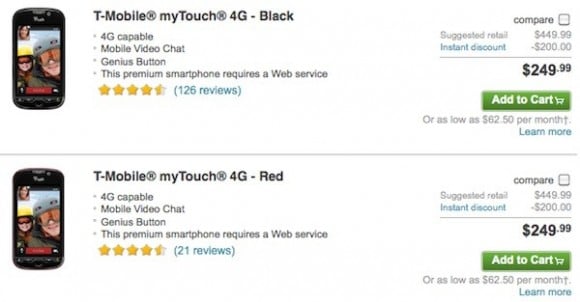 In the past, at least with rival U.S. based GSM carrier AT&T, that carrier has routinely offered new handsets at a steep discount during a promotional introductory period. When I was in an AT&T corporate retail store a few days ago, a sales rep told another customer that prices usually go up after the introductory period when the phone first launches. It appears T-Mobile USA may be following the same lead here as AT&T by incentivizing consumers on making the purchase earlier, rather than waiting.
Given that some of these devices are now old devices with specs that are matched or out-matched by newer rivals, T-Mobile USA must really be confident about its network. The T-Mobile G2, formerly $200 and now $250, is closely matched by the Sprint HTC EVO Shift 4G, a WiMax 3G/4G smartphone on Sprint's Now Network that retails for less at just $150 on contract. Also, the myTouch 4G may be outmatched by the newly launched Atrix 4G and Inspire 4G, both retail for about $100 and $200 on-contract through AT&T rather than the $250–formerly $200–price tag of the T-Mobile Android phone with its slate form factor. The Galaxy S 4G went from $150 to $200.
Via: Engadget

As an Amazon Associate I earn from qualifying purchases.