T-Mobile Remains a Second Class Citizen in iPhone 5 Land
T-Mobile and Apple started selling the iPhone 5 yesterday, but the wireless carrier isn't on level playing ground with AT&T, Sprint and Verizon. T-Mobile's facing a number of disadvantages that could steer iPhone 5 shoppers to its competitors, or just cause big headaches. The biggest issue of these is that Apple isn't even selling the widely advertised $99 T-Mobile iPhone 5 online or in its retail stores.
The only way to get the widely advertised $99 iPhone 5 deal is to buy directly from T-Mobile. Unfortunately, T-Mobile retail stores only sell the 16GB iPhone 5 at the moment. T-Mobile retail stores can special order iPhone 5s with more storage, but that takes up to two weeks. Customers may as well order them from T-mobile.com themselves.
Of course shoppers might assume they can buy a T-Mobile iPhone 5 from Apple retail stores or Apple.com, but they won't find the $99 price point direct from Apple. Another problem is that Apple still isn't directly selling an iPhone 5 model that's fully compatible with all of T-Mobile's wireless network (more on that later).
Apple prominently promotes the $199 starting price for the  AT&T, Sprint and Verizon models at the top of its iPhone 5 sales page. The $199 (16GB), $299 (32GB) and $399 (64GB) prices are only available with a two-year contract that includes a $450 subsidy.
READ: T-Mobile Monthly 4G Review: $30 per Month Bargain
Notice something missing from the above pricing and carrier selection grid? That's right, T-Mobile is nowhere to be found. Plopping the $99 T-Mobile compatible iPhone 5 into the mix would detract a bit from the competition. It's important to note that the T-Mobile phone actually costs $579, but T-Mobile charges $99 down with $20 monthly payments until it's paid off.
Instead of offering the T-Mobile specific iPhone 5, Apple is offering the unlocked iPhone 5 with a T-Mobile SIM. The problem with ordering the unlocked iPhone 5 with a T-Mobile SIM is that it costs $649 rather than $579 online, and Apple doesn't offer the $99 down deal on its website or in stores. Instead, those that can't pay the $649 price tag up front can apply for a Barclay Card that offers no interest for six months on T-Mobile iPhone 5 purchases.
Though it's not advertised on Apple.com, according to some San Francisco Apple Store salespeople, there are special incentives for T-Mobile iPhone 5 buyers in stores. Those who finance the unlocked iPhone 5 with a T-Mobile SIM with a Barclay Card at an Apple store are eligible for a $70 rebate after six months and will receive interest-free financing for up to 24 months. Sound confusing? It is, especially when compared to the straight-forward process of buying an iPhone on any other carrier.
Slow 4G Lottery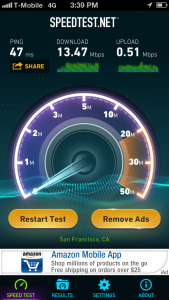 AT&T, T-Mobile and unlocked iPhone 5 models sold on April 12 or later are supposed to be fully compatible with T-Mobile's wireless signals, but some Apple stores are still selling models that won't work with T-Mobile's fast 4G network. Yes, they'll work with T-Mobile's 4G LTE network, but that network only covers a handful of cities, such as San Jose. T-Mobile's 42 Mbps HSPA+ network that runs on the 1700/2100 MHz bands is twice as fast as its 21 Mbps HSPA+ network that runs on the 1900 MHz band. When we went to two different Apple stores in San Francisco, none of the salespeople we talked to were aware of the issues and tried to sell us the old model, insisting it was completely compatible with T-Mobile's networks. We had to show the Apple store employees this Apple support document that clearly states the limitations.
In other words, some T-Mobile customers will be in the slow lane because Apple is still selling old phones that weren't designed to run on T-Mobile's network. Depending on coverage, some customers will be unable to reliably stream video and it will take longer to download files on iPhones that don't carry the 1700/2100 designation on the box. According to an Apple salesperson, retail stores sell iPhone 5s on a "first in, first out basis," which means they can't go dig through freshly delivered iPhones to find the fully compatible T-Mobile version.
As you can see in the Speedtest.net app results to the right, T-Mobile's 42 Mbps HSPA+ network is very fast. It can't match 4G LTE top speeds, but it is plenty fast for streaming video and downloading content. In fact, it matches and sometimes bests AT&T and Verizon's 4G LTE speeds in San Francisco.
T-Mobile is definitely shaking things up with its $99 iPhone 5 entry price, but it isn't earning the same respect as Apple's larger partners. And likely won't unless it begins pricing the iPhone the same as the competition.

As an Amazon Associate I earn from qualifying purchases.