T-Mobile Lists HTC Radar 4G, LG DoublePlay as Coming Soon
The website for T-Mobile USA is now listing the HTC Radar 4G and the LG DoublePlay smartphones as coming soon, with the former running Windows Phone 7 Mango while the latter is sporting the Android operating system.
The HTC Radar 4G will join the HTC HD7 on T-Mobile's Windows Phone lineup, and the Radar will be capable of 4G download speeds on the carrier's HSPA+ network. The device is expected to arrive on November 2nd, though T-Mobile's website only says that it is coming soon.
The device will come pre-loaded with Mango and will be powered by a single-core Snapdragon CPU clocked at 1 GHz. It will have a 3.8-inch LCD touchscreen, a 5-megapixel rear camera, and front-facing camera.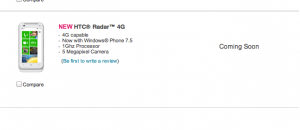 The LG DoublePlay is a recently announce Android smartphone that's probably more geared towards the text-messaging crowd and will be targeted at the Sidekick demographics. The device has dual-screen where the top screen will slide up in landscape orientation to reveal a smaller screen that sits in the middle of a split-hardware QWERTY keyboard.
Via: TmoNews

As an Amazon Associate I earn from qualifying purchases.