Data Stash Is Another Reason To Buy iPhone on T-Mobile
T-Mobile is rolling out what appears to be another easy way for its customers to save money and it's again focusing on data. Having now already eliminated data overages, today the company revealed Data Stash. Data Stash is exactly what it sounds like, users who don't completely blow through their high-speed data allotment will be able to save it for later.
T-Mobile announced Data Stash this morning in a press release. The move is the focus of Un-Carrier 8, another renewed push to get smartphone users off of Sprint, AT&T and Verizon and over to T-Mobile.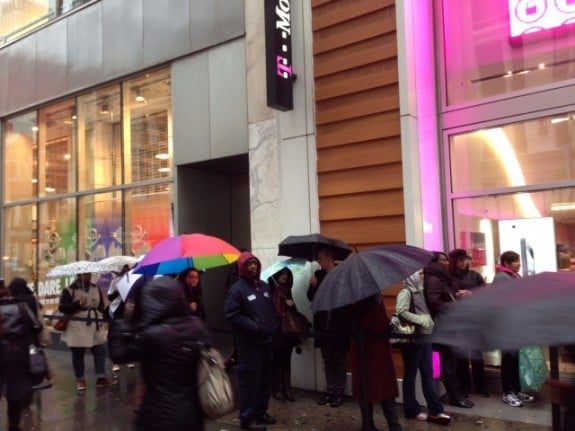 Every T-Mobile user who has signed up for a Simple Choice plan will get a Data Stash this coming January, provided that they at least have 3GB of high-speed data purchased for their smartphone or 1GB of high-speed data purchased for their tablet. T-Mobile is filling every Data Stash with 10GB of data to mark the launch of the program, users will build on that stash as they save more data.
Essentially, T-Mobile is doing for wireless data what other networks used to do for wireless calling minutes. Allowing users to save up minutes over time was a big thing when calling other people was the primary thing users did with their phones.
T-Mobile doesn't doll out data overages like other carriers. Instead, every user has unlimited data. What they're actually paying for is high-speed data. What Data Stash allows users to do is build up high-speed data that they can use when they're on a long trip and don't trust hotel Wi-Fi, for example. Extra data stored in a Data Stash does still go away, but not for a year. T-Mobile says it will round up what's stored in a Data Stash to the nearest Gigabyte. Data Stash won't have a ceiling, so users will be able to store as much high-speed data away as they can in an entire year.
Usually, you don't see this type of fanfare for a wireless carrier announcement. Mostly, that's because in the past they've tended to be less exciting and a lot less user friendly. Presumably, users are excited because of the customer-friendly moves T-Mobile has announced at each Un-Carrier event.
T-Mobile started by eliminating what it could considered to be onerous wireless contracts and breaking out the cost of smartphones from its post paid plans. From that point on, users would not be charged an overage fee for data. Early termination fees were eliminated on wireless service too. Today, users still have to sign a contract financing devices like the iPhone, but that financing is completely independent of their bill. Once the phone is paid off they're free to upgrade to another or stick to just their wireless service payments going forward.
The second Un-Carrier event introduced T-Mobile Jump a new upgrade program that let users upgrade their phone twice a year and get the same price as subscribers just joining T-Mobile. Later moves added Wi-Fi calling to boost signals in places where they wouldn't normally get any signal at all. Text-messaging on flights is now free. Streaming from big music services no longer counts towards users' data plans either.
The biggest liability for T-Mobile is no longer it's plans, phones or wireless contracts. Instead, it's coverage. It has a pretty big network but not as big as AT&T, Verizon and Sprint. The carrier is great in metropolitan areas, but coverage gets pretty spotty in more rural areas. T-Mobile says it's grown its network to 260 million people and began deploying new spectrum for better coverage in a number of new cities and metropolitan areas. In New York, users are reporting speeds as fast as 100 Mbps.
To be clear, it looks like T-Mobile doesn't have any plans to roll out Data Stash to prepaid users.