T-Mobile Reveals Surprise Un-Carrier 8.0 Event
Moments ago, T-Mobile USA, America's fourth-largest wireless carrier revealed it's holding a surprise press event and announcement this coming Tuesday, December 16th. It's dubbing the surprise event Un-Carrier 8.0, hinting at even more changes for its customer-friendly wireless business.
T-Mobile began sending notices about the event to wireless industry pundits and insiders early this morning. The invitation is pretty basic, the event starts at 10:30AM. T-Mobile claims in the email that Un-Carrier 8.0 is such a big deal that it "had to keep it under wraps." The picture in the invitation is a wrapped gift.
Absolutely no hints about what T-Mobile USA plans to announce at Un-Carrier 8.0 are contained in the email. Following the announcement, T-Mobile CEO and outspoken critique of just about everything the wireless industry has to offer, will take questions from Yahoo News' David Pogue. T-Mobile is inviting to submit their questions to the two by tweeting at them with the #unCarrier8 hashtag through Twitter. T-Mobile will then hold a call directly with the press a bit later.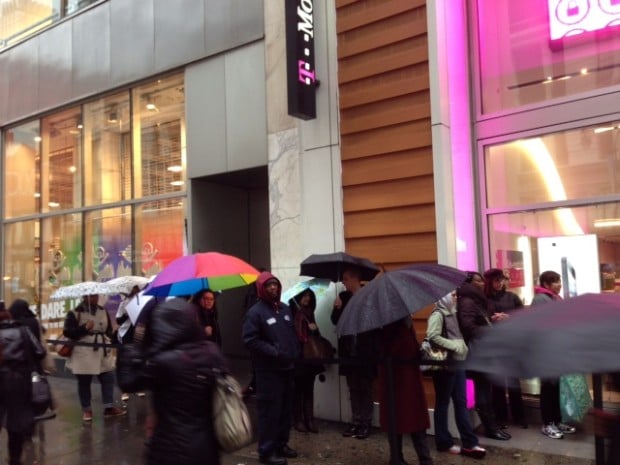 There are a lot of people excited about this T-Mobile Un-Carrier 8 event, which only underscores just how big of a turn around T-Mobile has been able to pull off. T-Mobile kicked off its Un-Carrier initiatives, marketing strategy and more after the Federal Communications Commission made it clear that it wouldn't drop its opposition to AT&T purchasing and merging with T-Mobile. The move would have left just three carriers. The FCC wanted to guarantee competitive pricing for wireless calling, messaging and wireless data.
Luckily, that's exact what they've gotten. Through the Un-Carrier program, T-Mobile has made the wireless industry more exciting than it ever was before. Today, Sprint, AT&T and Verizon allow users to purchase smartphones on monthly installation plans. In theory, doing so is more transparent for users than having the price of their phone buried in their wireless contract. T-Mobile kicked off that revolution when it announced that it would stop offering contracts and let users pay for their phones separately from their wireless plan. It's not as glamorous as T-Mobile makes it sound, users who don't have a phone still pay more on top of their wireless bill. The trick is that users can upgrade on their own schedule once their device is paid off. T-Mobile devices purchased with an Equipment Installation Plan can be paid off at any time, effectively giving users some of the best wireless pricing available.
Read: Why T-Mobile Has the Best iPhone 6 Deal
Equipment Installation Plans were just T-Mobile's open salvo. Since then its rolled out a $10 a month service that allows users to upgrade to the latest and greatest smartphones a lot faster. Called T-Mobile Jump, its extra for users who are paying on a T-Mobile device with an EIP plan. T-Mobile Jump gets users new smartphones for around the same price as new customers without adding a new line. It also includes insurance, which is needed since Jump users have to trade-in their device when they Jump to a new device.
T-Mobile definitely has a wireless network problem, but it's working hard to put that problem behind it. The carrier used the money it received from the failed AT&T merger to build out a nationwide 4G LTE network that it was years behind on. Today, T-Mobile 4G LTE service is available in most metro areas on the east and west coast. Past Un-Carrier events included announcements to make up for bad T-Mobile coverage. Wi-Fi calling and messaging is now available on every smartphone T-Mobile sells. Windows Phone, iPhone and Android devices all support Wi-Fi calling in places where T-Mobile services wouldn't normally work.
$100 family plans for users and unlimited Simple Choice plans have garnered T-Mobile a lot of attention too.
Not all of T-Mobile's initiatives have gone over well with everyone. T-Mobile's Un-Carrier 7 event included a program called  Music Unlimited. With Music Unlimited, users of certain T-Mobile plans are able to stream from Spotify, Xbox Music, iTunes Radio and Google Play and not have it count towards their data allotment. Proponents of the internet being treated as an open utility free of gatekeepers aren't too happy about Music Unlimited.
GottaBeMobile will have all the news from tomorrow's UN-Carrier 8 event as it happens.

As an Amazon Associate I earn from qualifying purchases.