T-Mobile Sidekick 4G Hitting Radio Shack on April 20th
Radio Shack as apparently revealed the launch date of T-Mobile's upcoming Sidekick 4G before the carrier could officially announce it. According to a tweet last night, Radio Shack will be carrying the Sidekick 4G starting April 20th.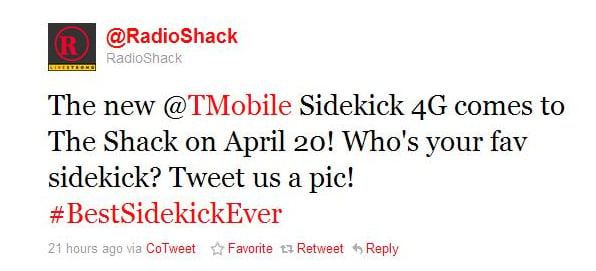 T-Mobile has yet to confirm that as the official launch date so as of right now, those looking to snag a new Sidekick should circle that day on the calendar in pencil.
April 20th is shaping up to be a pretty big day as the Honeycomb powered, 3D enabled LG G-Slate as well as the T-Mobile G2X are also be rumored to be launching that day as well.
T-Mobile's upcoming revival of the Sidekick series will be the first Sidekick with 4G capabilities, the first Sidekick with Android on board and the first Sidekick made by Samsung.
It features 3.5 inch screen, that familiar Sidekick keyboard, 1GHz Hummingbird processor, a 3MP rear camera, front-facing camera, and it will be powered by Android 2.2 right out of the box.
Look for official details from T-Mobile very shortly now that Radio Shack has blown the lid off on the launch date.
—
T-Mobile Sidekick 4G Hands-On

As an Amazon Associate I earn from qualifying purchases.