T-Mobile USA Doesn't Deny HTC Pyramid Smartphone on Twitter
Last week, rumors were circulating on the Internet about an HTC Pyramid smartphone, which would bring much improved specs to the HTC Android experience to T-Mobile USA. The leaked specs for the Pyramid indicate that the Android smartphone would have a dual-core Qualcomm Snapdragon processor clocked at 1.2 GHz, a 4.3-inch display that is becoming increasingly popular on smartphones launched at CES, and a high resolution screen with a resolution of 960 X 540, the same as the Atrix 4G's qHD display and making it a serious competitor to the iPhone's Retina Display.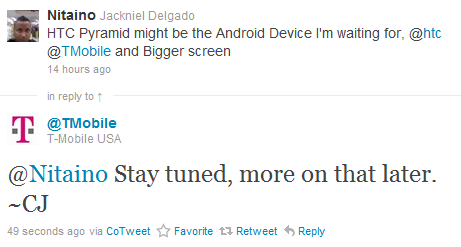 In a Twitter message, user Nitaino asked the U.S. wing of Deutsche Telekom about the device, to which the carrier responded "Stay tuned, more on that later." While cautious on its words on the unannounced handset, the carrier had acknowledged Nitaino's questions regarding the "HTC Pyramid" with its "bigger screen" without rejecting it or avoiding to comment in typical PR fashion.
Whatever the case, it looks like HTC has been holding off on announcing dual-core Tegra 2 smartphones at CES in favor of waiting for a dual-core solution from Qualcomm. At CES, the carrier had announced the HTC Thunderbolt 4G (Verizon) and the Inspire 4G (AT&T), both of which use a single-core CPU solution. In the past, the smartphone-maker has enjoyed a close relationship with chip-maker Qualcomm and it looks like that tradition will continue with the next-generation Snapdragon CPU powering the HTC Pyramid, which is expected to come mid-year.
Complete specs of the HTC Pyramid are not known at this time and it's still unclear if this smartphone will utilize the HTC Sense user interface on top of Android. It's also unclear what version of Android the Pyramid will launch with nor what the device's final name will be.