T-Mobile USA Nexus 4 v. Google Play Nexus 4
Not all Nexus 4 smartphones are born equal, and the recently announced version from Google sold through the Internet search giant's Play Store offers some slight variations to the model announced and sold through U.S. wireless carrier T-Mobile. Let's take a gander and explore what the nuances are and which version you'll decide to buy if you live in the U.S. market.
1. Capacity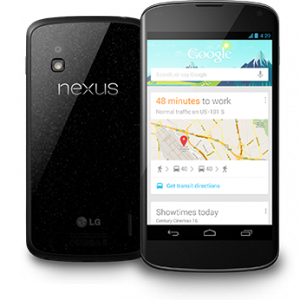 Google is offering the Nexus 4 in either 8 GB or 16 GB capacities with the lesser storage option priced at $300 and the higher end model costing $350. Though T-Mobile's press release doesn't mention capacity, Phandroid is reporting that T-Mobile will be selling only the 16 GB model, though the catch is that going through the carrier will mean you'll have to sign a two-year commitment whereas you'll be paying full-price up-front through Google. There is a difference in pricing, which we'll discuss next.
2. Pricing
The Nexus 4 unlocked through Google starts at $300, which is an excellent price for an unlocked smartphone with quad-core processing, a 720p HD display, and a great camera to start. In the U.S., the phone has a penta-band 3G GSM/HSPA+ radio, meaning you can hop along on T-Mobile, AT&T, or a number of pre-paid GSM carriers. The T-Mobile version is sold with a contract. Customers have two options, depending on the plan they opt for. On the Value Plan, customers will pay $200 up front and will finance the rest of the cost with 20 payments of $20 each for a full retail price of $600. On the Classic Plan, T-Mobile subscribers will be bound by a two-year contract with a payment of $200. There definitely is less up front cost, but you're restricted to a two-year contract going through T-Mobile while you get a device that's slightly more through Google but have no contracts to deal with. Both the Play Store and the T-Mobile versions are sold unlocked so you'll get flexibility here.
3. Speed
It's unclear if there are any significant internal differences between the Google Play model and the T-Mobile edition at this time as the press release was rather vague. However, it's been reported that the Google Play version supports a slower 4G HSPA+ connection while T-Mobile's edition supports up to 42 Mbps HSPA+, and neither version supports 4G LTE, unlike the hidden gem we've discovered on the T-Mobile Galaxy Note II. In the end, it really doesn't make much of a difference if it's the 21 Mbps HSPA+ connection on the Play Store edition or the 42 Mbps T-Mobile version as those are theoretical speeds–real world performance will be much less than that. On the Note II's 42 Mbps HSPA+ connection, I got around 3-8 Mbps on average.
Other than those three key areas, both phones appear identical right now. We'd still recommend getting the Google Play Store version if you can afford the extra $150 up front cost; doing so will net you a savings of $250 on the Value Plan and will give you more flexibility to use your upgrade for a future device, if you so choose, on a Classic Plan as you won't be tied into a contract and can use that upgrade for something in the future.

As an Amazon Associate I earn from qualifying purchases.