T-Mobile USA Release Dates for LG G-Slate, Dell Streak 7, Galaxy S 4G
A recently leaked document with important release dates for upcoming high profile phones and tablets for wireless carrier T-Mobile USA was obtained by TmoNews. That document confirms the anticipated release dates for the LG G-Slate tablet, the Dell Streak 7, as well as the Galaxy S 4G, also referred to by some as the Vibrant 4G due to the carrier's adoption of the Vibrant moniker for its original Galaxy S variant release.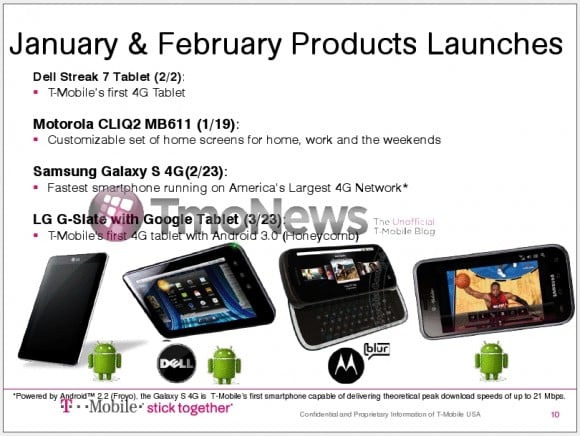 According to the document, it seems that the Dell Streak 7 will be the first out of the gate with a release date of February 2. The Android tablet is anticipated to be priced at $299.99 after rebate, though the rebate amount is unspecified. Most likely, the pricing on the Dell Streak 7 will be attached to a data plan with a contract. Unfortunately, T-Mobile has said at CES that the Dell Streak 7 will be a data-only device, meaning that it won't support voice functionality.
The Dell Streak 7 will launch with Dell's new Stage UI, which offers widgets to help users navigate the device. The carrier is expected to retire existing inventory of the Samsung Galaxy Tab as it introduces the Dell Streak 7 and the LG G-Slate to market.
Next up is the Vibrant 4G, also called the Galaxy S 4G by some, which will be available on February 23. The HSPA+ device will support T-Mobile's 4G network as its name implies.
Lastly, the Android 3.0 Honeycomb LG G-Slate will be T-Mobile's first Honeycomb device and is expected to land on the carrier by March 23rd. We'll likely here more about the device following MWC and leading up to the CTIA Spring 2011 industry conference.
Still missing from the list is the rumored Sidekick 4G.

As an Amazon Associate I earn from qualifying purchases.