T-Mobile vs AT&T vs Verizon iPhone 5 Speed Test
Can the $99 T-Mobile iPhone 5 keep up with Verizon's and AT&T's? To find out, I pitted the three versions against each other in speed tests in several neighborhoods in San Francisco. While T-Mobile's 4G LTE isn't available in San Francisco, its 4G HSPA+ network performs admirably, besting Verizon's 4G LTE speeds in many areas.
T-Mobile's advertising its 4G LTE network as being capable of 100 Mbps download speeds, which is several times faster than most Americans' home Internet connections. Unfortunately, T-Mobile's 4G LTE network is only available in seven cities, with another 77 planned to launch this summer. Luckily, T-Mobile's relatively mature 4G HSPA+ network runs at up to 42 Mbps, which is much faster than what AT&T, Sprint and Verizon customers see when 4G LTE isn't available.
Read: AT&T vs Verizon iPhone 5: Why AT&T Won My Wallet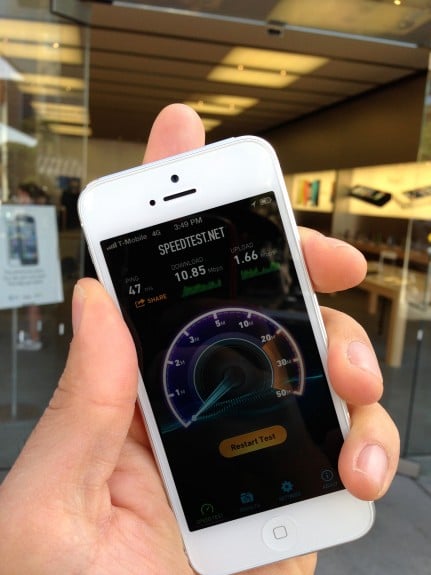 I didn't test Sprint's network in San Francisco because the carrier doesn't cover my hometown in 4G LTE coverage yet. iPhone 5 users are relegated to Sprint's slow 3G network in San Francisco, unless they happen to be on one of two highways.
As you can see in the above video, the T-Mobile iPhone 5 performs just fine in San Francisco. Shoppers looking at T-Mobile's bargain $99 iPhone 5 shouldn't let the lack of 4G LTE coverage bother them too much, so long as there's solid HSPA+ coverage. The download speeds I saw over T-Mobile's HSPA+ network are plenty fast to stream video and download other content. As with all wireless networks, your mileage will vary and there will be slow spots and dead zones. Be sure to test out any new iPhone's data and voice connections at home, work and other places you spend a lot of time before the return period expires.
Rush Hour iPhone 5 Speed Tests
I tested the iPhone 5 speeds on the networks in the late afternoon as I drove from the northern edge of San Francisco to my house, which sits about two miles from the city's southern border. San Francisco is a small city that measures just seven miles square, but it's very challenging for wireless carriers to cover well because of its numerous hills, old construction and high concentration of smartphone users.
I bought our test iPhone 5 from the T-Mobile store on Chestnut Street in San Francisco the first day the carrier began selling iPhones. This T-Mobile store just happens to be about a block away from an Apple store. Wireless carriers always try to cover Apple stores with strong wireless signals.
I ran the Speedtest.net app three times at each location three times and picked the best speeds to show below.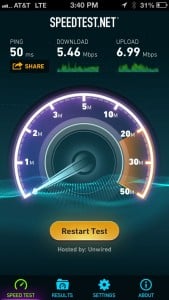 First up was AT&T, the carrier that caused oh so many headaches for early iPhone users. AT&T's improved its network in San Francisco drastically over the past couple of years and is now my top pick for those that live in the area. On Chestnut street the AT&T 4G LTE network clocked in 5.46 Mbps download and 6.99 Mbps upload speeds. That's fast enough for most uses, but on the low end for video streaming and Mobile Hotspot.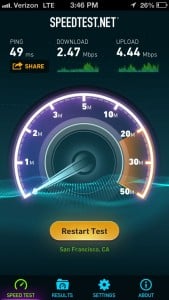 Verizon's 4G LTE network was even slower, delivering just 2.47 Mbps downloads and 4.44 Mbps uploads. Download speeds in this range feel noticeably slow and are what you'd expect out of a 3G network, not a 4G LTE network. Verizon was the first carrier to bring 4G LTE to San Francisco, but network congestion and other issues have put the brakes on what was once a blazing fast network citywide.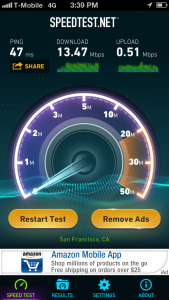 Surprisingly, T-Mobile clocked in the fastest download speeds at this location, even though its 4G LTE network was missing in action. At 13.47 Mbps, T-Mobile's HSPA+ network smoked the AT&T and Verizon 4G LTE networks in this trendy neighborhood. Unfortunately, upload speeds were just .51 Mbps, which could be a problem for those uploading content or emailing files. The slow upload speeds would be especially noticeable when using the iPhone 5's Mobile Hotspot feature.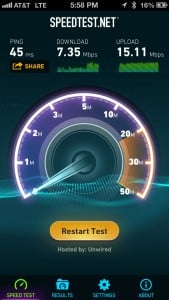 My next iPhone 5 speed test stop was on Gough Streeet near California Street in Pacific Heights a couple of hours later. As I've mentioned before, wireless carriers' speeds and reliability vary from block to block. Though this intersection is just a mile and half away from the Apple store on Chestnut Street where I ran the first series of speed tests, the results were quite different.
AT&T's 4G LTE netwok clocked in download speeds of 7.35 Mbps and fast upload speeds of 15.11 Mbps. Both scores were a little faster than the previous tests, but still far below what AT&T's LTE network is capable of.
The Verizon iPhone 5 could place and receive calls on Gough street during rush hour, but its data connection was unusable. The Speedtest.net app reported that there was no data connection the first two times I ran it. The third time I ran the test on the Verizon iPhone 5 it scored a miserably low .58 Mbps down and .05 Mbps up.
Verizon has perhaps the best reputation for reliability and has the largest 4G LTE footprint in the U.S. This speed test served as a reminder that no network is perfect.
The T-Mobile iPhone 5  was also slower than it was at the original test location. With 4.64 Mbps download speeds, the T-Mobile iPhone 5 could quickly load Web sites, but it was disappointing to see download speeds that were two-thirds lower than the first tests.
T-Mobile's upload speeds were up to almost 1 Mbps, but that's still too slow for many users. Of course both T-Mobile scores were better than Verizon's at this location.
Turning onto Market street, I stopped near Church Street in the Castro district to run a third set of speed tests.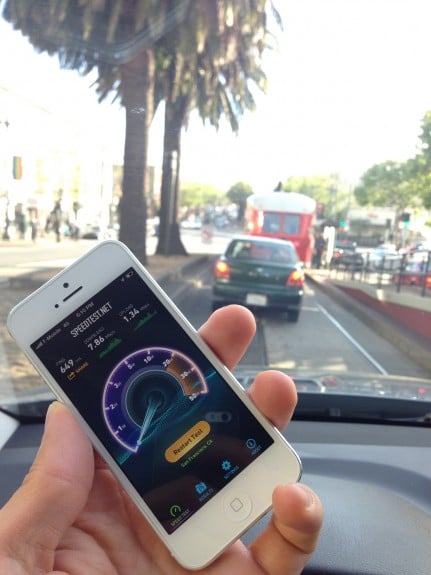 AT&T finally showed off its 4G LTE chops, delivering data at a rate of 22.98 Mbps down and 10.46 Mbps up. Those kinds of speeds are faster than most people's home Internet connections and is more than enough to do just about anything you'd desire on a smartphone. Using a computer tapped into the iPhone 5's Mobile Hotspot feels almost the same as using it on a speedy Wi-Fi network.  At last we had something approaching 'real' 4G LTE speeds.
Like AT&T, Verizon picked up the pace at the third test location, but the download speeds still left a lot to be desired. The fastest download speed we could muster on the Verizon iPhone 5 was 3.51 Mbps. Upload speeds peaked at 8.38 Mbps. Verizon's download speeds were less than 10% of what I've seen from the carrier's LTE network in some locations.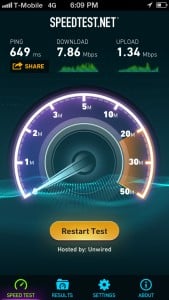 T-Mobile improved to 7.86 Mbps down and 1.34 Mbps on Market Street. That's a respectable download speed, but it would be very frustrating to upload content at a hair over 1 Mbps. Another thing to note is that the Speedtest.net app was showing pings near half a second (.449 second) on T-Mobile's network at this location. A half second may not sound like a lot, but it's nearly 10 times more than what we saw on previous speed tests.
I drove up Market Street towards Twin Peaks and stopped on Portola Drive, just a few blocks from the highest point of San Francisco. This is where things got really fast..at least for AT&T.
At the corner of Portola Drive and O'Shaughnessy Boulevard, the AT&T iPhone 5 was able to download data at a blistering rate of 50.19 Mbps. That's a faster score than what I get at home on my 100 Mbps Comcast connection. The AT&T iPhone 5 also clocked in the fastest upload speeds of the day at 13.99 Mbps.
While the AT&T results were certainly impressive on Portola Drive, it is a residential area where people are more likely to be connected to Wi-Fi networks.
Verizon made another poor showing at our final stop, falling shy of the 4 Mbps mark on downloads and limping along at .05 Mbps when attempting the upload test. The experience with Verizon was much worese than we've ever seen in the San Francisco Bay Area before. We typically see very fast Verizon 4G LTE speeds in San Francisco's Financial District, South of Market and other densely-populated neighborhoods.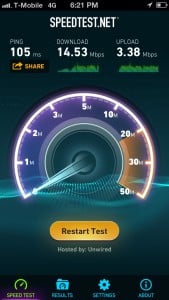 Like AT&T, T-Mobile made its best showing on Portola Drive. At 14.53 Mbps, T-Mobile's HSPA+ network blew away Verizon, but didn't come close to AT&T's 4G LTE network.
T-Mobile is offering a lot of value with its $99 iPhone 5 offer and affordable subscriptions, especially if you're distributing several iPhones to family members. While T-Mobile's 4G LTE and voice networks aren't as mature as AT&T's and Verizon's, Apple's newest wireless partner offers plenty of speed for most users.
Read: T-Mobile Remains a Second Class Citizen in iPhone 5 Land

As an Amazon Associate I earn from qualifying purchases.