T-Mobile Will Pay Off Your iPhone Too
It seems that hidden within T-Mobile's business related announcement yesterday was important news about how the company plans to aid AT&T, Sprint and Verizon customers to switching to its services in droves. The company now says it'll pay off the remaining balance on smartphones like the iPhone and still pay off their Early Termination Fee too.
T-Mobile announced its updated approach to Carrier Freedom in a press release on its website this morning. With the change, customers considering coming to T-Mobile should be out of excuses. According to T-Mobile, the Carrier Freedom changes are a response to the millions of users who took advantage of AT&T Next and Verizon Edge. With both programs, users purchase a smartphone and pay it off in monthly installments.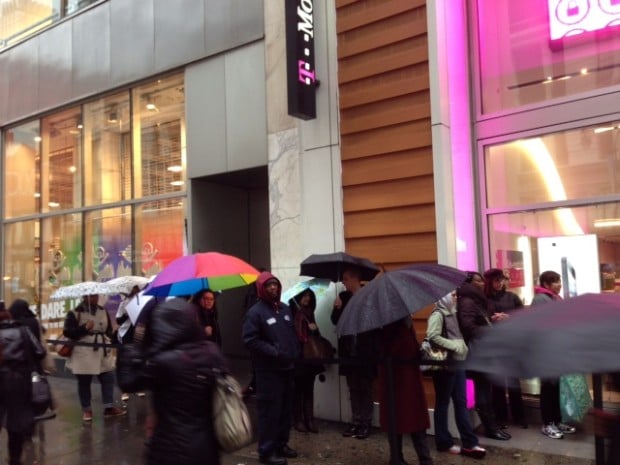 Users who sign up for a T-Mobile Simple Choice Plan will need to trade-in their smartphone from their previous carrier. T-Mobile says they'll get credit for the smartphone trade-in immediately and receive a prepaid credit with the remaining balance on their smartphone after they've submitted their bill. New subscribers stand to get $650 on that prepaid credit card per line. The offer is available on 10 individual lines per person.
Switchers need to have a smartphone that's in decent condition for the trade in. Users also need what T-Mobile describes as "qualifying credit." Ironically, AT&T Next and Verizon Edge were launched in response to T-Mobile's own Equipment Installation Plans. T-Mobile Equipment Installation Plans let subscribers with qualifying credit break down payments for their smartphone or tablet into smaller monthly chunks too. T-Mobile lets users fulfill the terms of their installation plan or finish paying off their device whenever they want. When they do, their monthly bill goes down.
T-Mobile is calling its new commitment to customers Un-contract, a way of tying it into the Un-carrier upgrades and policy changes that have breathed new life into the carrier since its failed merger with AT&T. It's not really a new program or flashy new service. Instead, Un-contract is T-Mobile's way of promising users it won't start making bad changes to their plans that are in their best interest.
"Traditional wireless industry contracts are all take and no give. They lock you in and give you nothing in return. The carriers can do just about anything they want – including changing your plan and even raising your rates," T-Mobile says.
T-Mobile is promising to effectively lock some customers into their rates forever. Everyone who has a post-paid Simple choice Plan can rest assured that T-Mobile won't suddenly decide to change their rates or alter the terms of their service. T-Mobile is also making this guarantee for subscribers on its Simple Choice promotional plans, like the $100 for 10GB of LTE promotion that it rolled out last year. Unfortunately, the Un-contract commitment doesn't necessarily apply to T-Mobile users with an Unlimited 4G LTE subscription. T-Mobile is only promising not to change those rates for two-years. The company isn't promising to not raise prepaid rates either.
T-Mobile says that Un-contract will roll out March 22nd.
Though not necessarily as exciting as some of its more shocking changes in the last few years, these new Un-carrier 9 initiatives are about continuing to make the carrier more customer friendly than rivals. T-Mobile CEO John Legere noted that the company hopes to free AT&T, Verizon and Sprint users from their troublesome contracts and unfair pricing during yesterday's Un-carrier press conference.
At least for now, Un-carrier seems to be working. The company has seen a net rise in prepaid smartphone users. T-Mobile rolled out a new set of Un-carrier moves aimed directly at small business yesterday too. These Un-carrier for Business plans hand out discounts to small business owners who bring over more than one line from another carrier.

As an Amazon Associate I earn from qualifying purchases.