Tablet Christmas Shopping? Things to Consider
So, you've decided to take the plunge and make this a Tablet Christmas. Good for you. Tablets are great things. Whether you're looking at a Tablet as a companion device or as your next computer they offer a distinctly mobile experience that can free you up to work or play in a variety of locations even if those locations just mean moving from the sofa downstairs to the sofa upstairs. Or maybe you'd just like to take a step up from the Tablet you already own. Either way you've got some decision making to do. There are plenty of Tablets to choose from. Your choice depends on your needs and your budget.
Look at this as a guide for Tablet shopping that stays away from specs and hardware differences, but instead looks at the Tablet experience in a general sense. There is reason I'm treating this post this way. This year, unlike past years, the distinction between Tablets from different makers may vary, but the experiences Tablets offer are becoming closer and closer. If there is a category where things might be changing that category might be the long term value proposition.
Each of the Tablets discussed in this post have much in common. They all have the latest and greatest chipsets, beautiful display screens, and access to a range of content that offer options to those looking to play games, watch video, listen to music, read books, sling content to a TV, or even get some work done. They all offer windows into the world you'd like to create for yourself while holding that world in your hand.
The Big Four
While there are many different Tablet makers there are really four ecosystems to choose from. And one of those has two different variants. No, I'm not talking about Android, although I will shortly. The Big Four are Apple, Amazon, Microsoft and Google/Android/Samsung/many others. Each of these big four have introduced new Tablets and have older Tablet models still available for sale. Each Tablet and its respective ecosystem has something to offer. I would venture to say, that things have improved so much that unless you have an absolute specific need or are tied into an ecosystem that you absolutely adore, that for most consumers this holiday system, the newer Tablets from any of the big four would satisfy. I'm not saying that all Tablets are created equal. There are differences. But the distance between those differences is narrower this year than it has been in the past.

Microsoft
The Tablet ecosystem with two distinct variants belongs to Microsoft. Microsoft has two different Tablet operating systems right now: Windows 8.1 and Windows 8.1 RT. If you think that sounds confusing, Microsoft thinks so too.
The difference between Windows 8.1 RT and Windows 8.1 is that Windows 8.1 RT does not run what we think of as conventional Windows Apps. Windows 8.1 RT Tablets run on the ARM architecture and Windows 8.1 runs on Tablets running Intel chips. Apps for Windows 8.1 RT need to be written for that platform specifically. They used to be called Metro Apps and some still use that name. But that's a rule that Microsoft has broken itself by providing Microsoft Office 2013 for free on the Windows 8.1 RT platform. Some like to say that RT Tablets are not real Windows PCs. For lack of a better shortcut I think that's accurate. But they are powerful Tablets in an of their own right.
The RT Tablets
Windows 8.1 RT operates on three Tablets at the moment: Surface RT, Surface 2, and the Nokia 2520. The Surface RT was the original Tablet using this operating system. The Surface 2 is the much improved second generation. The Nokia 2520 is just released.
The Surface RT can be found with relatively inexpensive prices this holiday season. There's a reason for that. It's not just last year's technology, but it is last year's technology that really should have been taken off the market. Yes, it still works and with an upgrade to Windows 8.1 RT it runs better than it did on Windows 8. But if there is a future in the RT platform then this device will quickly be passed by in the months (not years) to come.
The Surface 2 is the newer version and Microsoft got many things right that it missed on the first time around. Performance is improved significantly as is battery life. The hardware has not changed much, but the changes make it a nicer package. The screen on the Surface 2 steps up to 1080p from the previous 720p of the original Surface. Both the Surface RT and the Surface 2 are available with 32GB or 64GB of storage.
Read: Microsoft Surface 2 Review
The Nokia 2520 is brand spanking new. Apart from the variety of colors you can select from, the biggest difference between the Nokia 2520 and a Surface 2 is that it offers LTE for connectivity. In fact you can't buy a WiFi only variant. Surface 2 is WiFi only for this holiday season with LTE models promised for the future. Currently the Nokia 2520 is available with only 32GB of storage.
The Pro Tablets
The Surface Pro and the Surface Pro 2 are the full Windows 8.1 variants of Microsoft's Tablets. Think of them as full fledged Windows computers using Microsoft's Surface Tablet form factor. Because they run Windows 8.1 and not Windows 8.1 RT you can take advantage of a number of features and capabilities such as Digital Inking, using Photoshop, or running iTunes.
Each of the above Tablets features a widescreen 16 x 9 display ratio and is advertised heavily with a keyboard. Note that the keyboard(s) costs extra. Nokia is offering free keyboards for a limited time to new 2520 purchasers due to a delay in having them ready at launch. This doesn't mean you can waltz into a store and pick one up though. The keyboards will be delivered later. The Nokia power keyboards are normally priced at $149. The Surface Touch Cover 2 is priced at $119 and the Surface Type Cover 2 is prices at $129. You may see Touch and Type Covers offered with prices as low as $79. This are the first generation models.
Read: Microsoft Surface Pro 2 Review
Price
The Surface RT can be found at steep discounts this holiday season with prices ranging from $199 to $349. If you really want a Surface RT you should only consider buying one at a steep Black Friday discount in my view.
The Surface 2 starts at $449 for the 32GB model and $549 for the 64GB model. You won't find many discounts on these new models.
The Nokia 2520 can be purchased for $399 with a two year LTE contract from Verizon or AT&T and $499 unsubsidized. The Microsoft Store is selling the Nokia 2520 for the unsubsidized price of $499. The subsidized price for an LTE model seems high to me in comparison. It also appears that the only colors to be had this holiday season are black or red, although more were announced at the Nokia 2520 launch.
The original Surface Pro can be found this holiday season for as low as $699, and perhaps lower with discount specials.
The Surface Pro 2 starts at $899 for a 32GB model with prices ranging to $1799 for the 512GB capacity model.
Read: Nokia 2520 Tablet Review
Ecosystem
If Windows is your computing life these Tablets each give you access to Microsoft's ecosystem. The Surface RT and Surface 2 don't allow you to use the full range of available Windows software, but do allow you to tap into Microsoft's latest software initiatives that include Xbox integration for media and content services.
Microsoft's RT platform, which includes the Nokia 2520, is weak when it comes to letting you access software or services from other vendors such as Amazon, Google, or Apple. If you can access it or install it on a Windows Desktop computer you can access it on a Surface Pro or Surface Pro 2.
Microsoft Office 2013 Home and Student Edition comes free with Surface RT, Surface 2 and the Nokia 2520. It does not come free on Surface Pro or Surface Pro 2.
The Nokia 2520 comes with bundled Apps from Nokia that are not available for the Surface RT or Surface 2. These include:  HERE Maps, Nokia Music, Nokia Video Director, Nokia Storyteller, Nokia Camera and My Nokia and Dragon's Adventure. The last title is aimed at keeping your kids entertained and is based on "How to Train a Dragon." It converts Nokia's HERE Maps into a location based adventure.

Other Microsoft Windows 8.1 Tablets
Other makers of computers and Tablets have also released Tablets based on Windows 8.1. There are no other Tablets based on Windows 8.1 RT this holiday season. Makers such as Dell, Lenovo, Asus, HP, and others have Tablets available in variants that include hybrid models with screens that detach from the keyboard to Tablets that twist and fold in unique ways.
A key way to distinguish between the RT Tablets and the not RT tablets is this. The RT Tablets are Tablets that you can get work done on. The non-RT Tablets are computers (laptops) that you can use as a Tablet for recreational or other purposes.

Google/Android
Google's Android platform is a many headed hydra with enough variants and variables that could slow down a super computer trying to keep up with them all. There are top of the line models and very cheap models you can find at your corner CVS. Samsung is a key player in the Android line of Tablets and Google has its own recently minted 7 inch Tablet to consider as well. I'm going to stay away from discussing the cheap variants here and I suggest you stay away from purchasing one as well. Do they work? Yes, by and large. But they are usually manufactured with cheaper components that won't stand the test of time. Chances are they won't receive updates to the Android operating system either.
Speaking of updates, and this is a personal statement here, I wouldn't purchase an Android based Tablet unless the operating system is at least Version 4.2. If it is on the list to receive an update to 4.4 (KitKat) or already has, even better.
Many of the cheaper Android Tablets don't use the most recent versions of the Android OS and this can be a liability if you're thinking about the longevity of the device. Often these Tablets don't see updates to Android. If they do, they come far too late in the game to be meaningful. This is one of the biggest problems with the Android ecosystem.
Nexus Tablets
Google's Nexus line of Tablets is how it would like the world to view Android on Tablets. Call it Google's signature line. Currently Google offers two Nexus Tablets: The Nexus 7 and the Nexus 10. The Nexus 7 was upgraded this year, and the Nexus 10 is rumored to have a new version released any minute now. Although there is some speculation that it might be a Chrome based Tablet and not based on the Android OS. Google is once again trying to distinguish Apps optimized for Tablets in the Google Play Store, and the lack of Tablet optimized Apps has been a drawback in the past. That situation is improving. Slowly. But it is improving.
Read: Nexus 7 Review
The original Nexus 7 was the 7 inch Tablet that got many thinking that the 7 inch form factor was viable. It still continues its popularity and deservedly so. And while priced like a lower tiered Tablet with a starting price of $229 for a 16GB version going up to $349 for a $32GB version with LTE, it is a top of the line Tablet in terms of the experience it offers. The Nexus 7 is manufactured for Google by Asus.
Read: iPad Mini with Retina Display vs Nexus 7
The Nexus 10 is a larger version of the Nexus 7 and due for an update. The Nexus 10 is currently priced at $399 for a 16GB version or $499 for a 32GB version (both WiFi only) and runs Android 4.2. If you see the prices drop suddenly, it might be a hint that the newer version is due to be released soon.
Samsung
Some say Samsung is doing a better job of defining the Android experience than Google is. Samsung's Galaxy Note Tablets come in two size variants: The Galaxy Note 8 and the Galaxy Note 10.1. Note that in some retail outlets you'll see both last year's Galaxy Note 10.1 on sale as well as the newer version, The Galaxy Note 10.1 2014 edition.
Both the Note 8 and the 2014 Note 10.1 are quality Tablets that show Samsung is investing in the platform. The Note 10.1 has 16GB, 32GB, and 64GB storage options and prices starting at $549 making it the highest priced non-full Windows Tablet on the market this season. The Galaxy Note 8 starts at $349 and there are both 16GB and 32GB models available, although the 32GB range variant is harder to find. Notice that the Note 8 also is running Android 4.1 which is a generation behind the curve. There is no solid word if updates to the OS will be available. Quite honestly, I think we'll see a new 7 or 8 inch sized Galaxy Note before we see an OS update to the current version.
Read: Galaxy Note 10.1 2014 Edition Review
Both the Note 10.1 and the Note 8 are Tablets worth considering if you're a Digital Inker. Samsung has done considerable development into making its Note line of smartphone and Tablets distinctive by adding stylus note taking capability. Both Note Tablets have Wacom digitizers and very good digital Inking experiences.
Samsung's TouchWiz UI is layered on top of the Android operating system and has its fans and its detractors. Samsung is working hard to make its branded Tablets stand out from the rest of the Android Tablets on the market. While many of the Apps and services Samsung offers seem superfluous, some (like the Apps that are designed for Inking) offer real value.
The Galaxy Note 10.1 starts at $549 for the 16GB editions in black or white and the 32GB editions cost $599.
The Galaxy Note 8 starts at $349.

Amazon
Some would argue that Amazon's Kindle Fire line of Tablets should be listed under Google/Android. Perhaps. But Amazon is making its own way, building on top of Android, that I think it has to be considered separately. Amazon's Kindle Fire has moved into real competition with its latest release of Kindle Fire Tablets. The hardware has been upgraded and Amazon's version of the Android operating system that it calls Fire OS continues to improve. The newer Kindle Fire HDX Tablets offer hardware packages that rival its competitors and Amazon is able to keep price points within a range that like Google's Nexus 7, offers high end value for low end cost. Amazon also has HD models (as compared to HDX models) available at even lower price points. The most noticeable difference is the higher resolution display on the HDX models. The Kindle Fire HD starts as low as $139 for an 8GB version. The most expensive Fire HDX with LTE and 64GB of storage costs $549. Safe to say there is a Kindle Fire available within many budget ranges.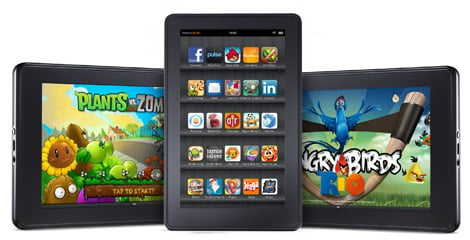 Amazon's approach is a simple one. Amazon wants you consuming content from its stores whether that is movies, TV shows, books, music, magazines, or other content. Even help. Amazon includes a May Day feature that connects you in seconds to a live help specialist right on your Tablet screen. Amazon's App store has, in some cases its own Kindle version of Apps, but you can still use many of Google's versions as well. Amazon's Kindle Fire Tablets are also one stop shopping devices for all of the things Amazon sells.
Are Kindle's comparable to non Amazon Android Tablets? I think the answer is yes for all but the geek crowd that loves Android because they can customize it. Amazon's Fire OS all but hides the Android innards. For some I'm sure that's actually an appealing feature.

Apple
The cream of the crop? Well Apple's iPads certainly used to be. In my personal opinion they still are. The iPad Air is the best Tablet I've ever used. But a very cogent argument could be made that in today's market, Apple's competitors have raised their own respective games to a point that for this holiday season there is real competition. But that's not the entire story. Apple's new hardware for both the iPad Air and the iPad mini with Retina Display is indeed top of the line hardware today and it probably will be next year as well. The most significant distinction between the iPad Air and iPad mini with Retina Display this year is size.
In my view the new 64 bit architecture and the A7 chip offer a promise for tomorrow that might make those looking at a Tablet purchase this holiday season consider it a purchase that could easily last 2 or 3 years. Yes, there will be another round of iPads next year. But that what Apple has on the market now is certainly going to be stiffer competition for whatever it brings out next year than has been the case in previous years. More on that later.
Read: iPad Air Review
Apple's high end iPads also come with high end prices. Starting at $499 you can configure storage and LTE options that take you just shy of $1000. By the time you add a case/cover and possible keyboard you're looking at a sizeable investment if you want more than the 16GB entry level $499 price for an iPad Air or $399 for an iPad mini with Retina Display. I would say that you shouldn't even consider a 16GB model because you will quickly exhaust storage with Apps or other content, especially if you play games or download videos.
Read: iPad mini with Retina Display Review
Unlike the plastic feel of Samsung, Amazon, Nokia, and Google Tablets, Apple's iPads, like the Surface Tablets, feel like they are built from metal and feel like they are built to last. Apple's other big edge is that the relative longevity of the platform has led to a larger and deeper ecosystem surrounding it. This is not just true with Apps but also with accessories.
Apple has the first iPad mini still on sale for $299 in 16GB capacity. It also has the iPad 2 on sale for $399.
Keyboards and Getting Work Done
When the iPad began the second generation of Tablets, many tried to dismiss it as merely a consumption device. But time has proven that to be a passing canard. Tablets can be legitimate work devices, depending of course on the type of work you need to do. Microsoft and Nokia's Tablets are not advertised without a keyboard.
https://www.youtube.com/watch?v=C9PSnkVZ8So
This is borderline deceptive because the keyboard costs extra (except for that limited time offer we mentioned earlier for the Nokia 2520.) In fact, it costs extra to add a keyboard to any Tablet these days.
A day doesn't go by that we don't see a new keyboard or keyboard case for the iPad. But they also exist for Android Tablets as well. Most keyboards will cost you anywhere from $99 to $150 depending on the features and how they do double duty as protection for your Tablet. Nokia's keyboard cover also is a power cover that extends the battery life of your Tablet by about 5 hours. Microsoft is due to bring out its own power keyboard solution for its Surface Tablets next year.
The bottom line is that regardless of make or size of your Tablet you can find a keyboard for your Tablet. If you think it is essential, then add another $100 or so to your purchase price.
So, that's the range of Tablets we're looking at this holiday season. Again, I think that depending on your needs you could be happy with any one of them. Here are some very subjective thoughts I would offer regarding a possible Tablet purchase this holiday season.
Don't buy 16GB or smaller versions of any Tablet if they exist. They may be the cheapest entry point you will quickly fill up storage turning the monitoring of it into a chore. All Tablet makers want you to use their respective Clouds for storage of data and content. That's all well and good, but the safest bet is to start with 32GB of storage at the minimum. And remember, 32GB does not mean you'll have 32GB free for storage once you boot up. Apple's iOS 7 is the best at giving you the closest to the advertised full storage of the bunch.
Keyboards cost extra. If you need one, plan on adding the cost to your purchase.
If you are wed to Microsoft Office and Microsoft Office alone The Surface 2 and Nokia 2520 are definitely worth a look because Office 2013 is free. Of course is works on the Surface Pro Tablets as well bu it is not come for free on those models.
Video consumption. If its Netflix and Hulu you want take your pick. They are on all models covered here. If you want HBO Go, it doesn't exist yet for the Surface Tablets and those trying to use it in Internet Explorer on any Windows 8.1 Tablet keep reporting difficulties.
If you are big into Google's services, stay away from the Windows RT Tablets. Unless you access them through the browser there are very few workable alternatives for them in the Windows Store.
Each system offers you a chance to buy into its media ecosystem. We'll be covering this in another post in the next few days.
In my view, Apple's iPads offer the best future proof Tablets that you can buy today. The newest hardware looks to be a good investment for at least two if not three years. I can't say the same for the other makers at this point.
A deal is a deal only if you get value from it. Only you can decide how that value applies to your situation. I would stay away from the cheap Android Tablets that I didn't cover here and that will be everywhere this holiday season. One of the great things about Tablets is that you might purchase one with a specific purpose in mind (reading books for example), but you will quickly find yourself wanting to do more. Don't limit yourself by limiting your options in the first place.
Tablets for the Family
Maybe you're looking to buy a Tablet this Christmas for the family to use. All four vendors of the ecosystems discussed here offer parental controls in one form or another to keep the little ones away from content you'd rather they not see. (And to keep them from spending your hard earned dollars on Apps.) Tomorrow we'll be posting an article on Parental Controls for this year's Tablets.

As an Amazon Associate I earn from qualifying purchases.