Tablet Gift Guide – 6 Best Devices for the 2011 Holiday Season
2011 has undoubtedly been the year of the tablet. From the millions of  iPad 2s sold, to the fall of the HP TouchPad, to the impending rise of Amazon's Kindle Fire, slates have dominated technology headlines throughout the course of the year. And while the growth of the tablet market is good for (some of) the companies making the devices and for the carriers hosting them, it's a treacherous landscape for consumers to navigate.
If you walk into a store, the tablet section is populated by 10 or so devices that look fairly similar. However, there are plenty of differences between the tablets on the market.
Those of you thinking about giving one this holiday season will want to become familiar with our top picks so you can make the right decision on which slate to pick up.
Whether you want a tablet that's cheap or one that is extremely portable, we have you covered.
Amazon Kindle Fire
The Kindle Fire wants to steal the iPad 2's thunder with its $199 price tag.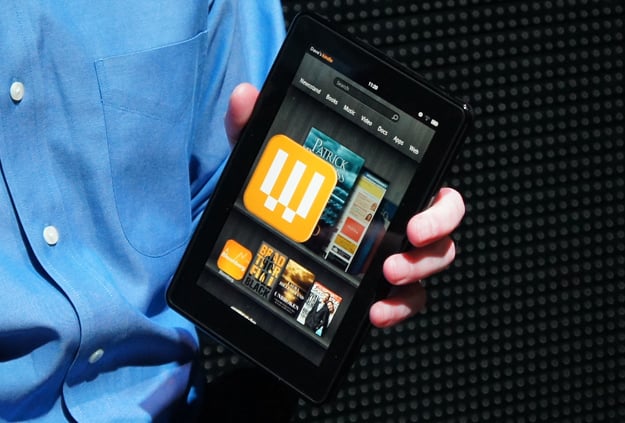 The Kindle Fire became a best-seller the moment Amazon opened up for pre-orders, making it one of the most popular devices of the season. The combination tablet, eReader, and media player is compelling thanks to its low price and the services behind it.
Now, the Kindle Fire isn't going to satisfy those who love powerful hardware. It lacks an SD card slot, Bluetooth, GPS, and a camera, has only 8GB of on-board storage, and owners won't be able to sideload apps. Your only source is the Amazon App Store. On the upside, the 7-inch IPS display is beautiful and the dual-core Texas Instruments OMAP processor should be able to handle anything you ask of the device.
Luckily, the hardware isn't the driving force behind the Kindle Fire and its intrigue.
Instead, it's the price and the services that might just compel you to pick one up. First and foremost, the Kindle Fire is a mere $199. It's Wi-Fi only, which means that you won't have to sign a contract to get that price either.
You'll also have access to a multitude of Amazon's services including Video on Demand and instant streaming for Prime members, the cloud-based Silk web browser, over 1 million books, free cloud storage for music, books, etc, access to over 17 million songs, and Amazon Whispersync which syncs content across your devices.
It'll also have Netflix, Hulu Plus, ESPN, Facebook, and more on board at launch.
You can see why Amazon sold 95,000 of these on day one.
So, what kind of a person might you buy a Kindle Fire for?
It would be a fantastic gift for those that are already avid users of Amazon's service. It will certainly enhance those. It also might be a nice upgrade for current Kindle owners who have been reluctant to make the transition from e-ink.
The Kindle Fire would also make a superb gift for someone that doesn't want to worry about storage space on the device, someone that consumes a ton of media. Remember, Amazon's tablet operates in the cloud and also offers access to books, magazines, movies and TV shows.
Read our Kindle Fire hands-on.
Apple iPad 2
The king of all tablets still tops many holiday wish lists.
If you're looking for a fantastic all-around experience, look no further than Apple's iPad 2.
For starters, the iPad 2 features a thin, lightweight design, which is something that someone commuting on a daily basis could appreciate. Its 9.7-inch display hits the sweet spot too in terms of portability and usability. It doesn't feel gigantic but it definitely is big enough for movies and games.
It comes in both 3G and Wi-Fi flavors, and the 3G variants don't require a contract. That means that you don't need to enter anyone into a contract when buying it. Simply get the 3G version and if the person wants to use the tablet where Wi-Fi isn't available, they can make that decision themselves.
The iPad 2 also has a solid 10 hours of battery life. Again, great for people who commute but also good for those that don't want to constantly have to charge up the device. Having to have a tablet plugged in when watching a movie or reading an e-book is a unnecessary nuisance.
However,  above all, the iPad 2 has access to Apple's iOS App Store that houses tens of thousands of applications that are specifically meant to be used with the iPad.
No other tablet has that kind of support. From games, to high quality Facebook and Twitter apps, to software like Netflix which will let you stream movies right from your tablet, the App Store has it all.
That makes it perfect for those who consume a ton of media, for those that are social media nuts, for those that game, and want to do all of that on-the-go or in-house on a massive and gorgeous display.
Read our review of the iPad 2.
Asus Eee Pad Transformer
A keyboard dock makes this a great tablet for work and play.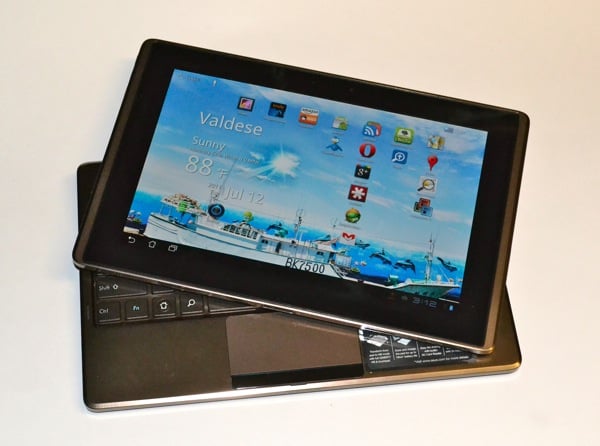 The Eee Pad Transformer stands out among Android tablets as it boasts a well-integrated keyboard dock that costs extra, but adds a good deal of functionality. If you or your loved one is a fan of physical keyboards on smartphones or if you just can't see yourself enjoying Android's virtual keyboard, the Eee Pad Transformer is an option. Think tablet meets netbook.
Besides being a hybrid tablet, the Eee Pad Transformer also boasts NVIDIA's speedy Tegra 2 dual-core processor for multitasking and gaming. It has a large 10.1-inch display which is perfect for watching videos.
It also has two cameras, a rear facing 5MP camera and a 1.3 front-facing camera for video chat, and it will likely be one of the first Android tablets to get the upgrade to Android 4.0 Ice Cream Sandwich.
Asus has been very forthright with its customers about software upgrades in addition to being quick to get them out. You can't say the same for many other manufacturers.
The Asus Eee Pad Transformer is good for those who want the full tablet experience but also want to be able to use their tablet like a netbook. It can make the transition from personal use to business in a heartbeat.
It's a hybrid tablet for a hybrid type of person.

Read our impressions of the Eee Pad Transformer.
Lenovo ThinkPad Tablet
An enterprise tablet that takes productivity to the next level.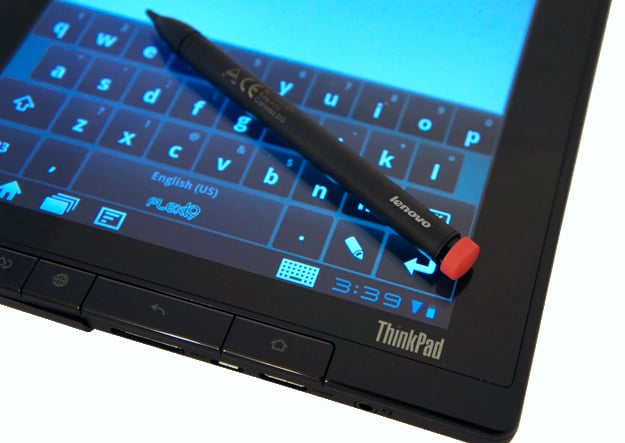 If the person you're shopping for is business-minded, you'll want to take a look at Lenovo's ThinkPad tablet. It comes pre-loaded with a dozen enterprise applications and it features both an optional stylus that we highly recommend and a Keyboard Folio case that adds both a physical keyboard and an optical mouse to transform the ThinkPad into a business juggernaut of a tablet.
The stylus, at a mere $30, is definitely worth picking up from the start.  As for the more expensive $100 Keyboard Folio, it's only necessary if the person doesn't bring a netbook along to work in conjunction with the tablet.
There are also a variety of security features and applications on board the ThinkPad to ensure your private documents will never fall into the wrong hands.
As for the tablet itself, it packs a 1GHz Nvidia Tegra 2 dual-core processor and 1GB of RAM which means that it will be able to withstand heavy usage.
It has solid battery life, lasting between 5-7 hours in our tests, which is perfect for long nights on the train home from work, and it has access to the Android Marketplace for apps in case a break from the grind is needed.
And while it's a great gift for someone already firmly entrenched in the business world, it would also make life easier for an entrepreneur that is just starting out. For instance, a newly minted small business owner or someone with an entry level job who is trying to make the transition from college to the real world.
Read our review of the Lenovo ThinkPad tablet.
Samsung Galaxy Tab 8.9
Portability is the name of the game here.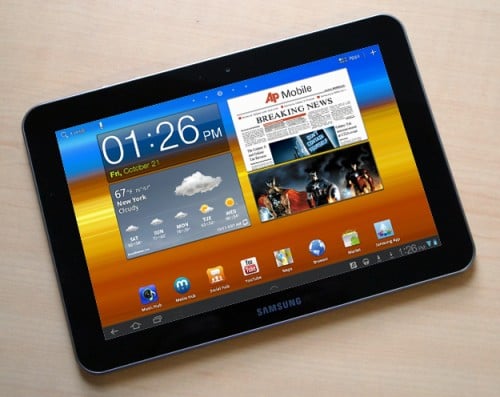 The Samsung Galaxy Tab 8.9 is finally here, though it's been a long time coming to market. This Android Honeycomb based tablet is powered by a Tegra 2 dual-core processor and boasts a massive 6100mAh battery that lasts all day.
While it possesses the same hardware and software as its larger brother, the Galaxy Tab 10.1, we chose the Tab 8.9 because of its portability.
It's perfect for those that are into reading digital magazines, whether at home or out in the wild. We feel that content is easier to consume on an 8.9-inch screen than it is on a 7-inch display. Its size provides for less scrolling and zooming and more reading.
The Galaxy Tab 8.9's screen is also big and sports 1280 x 800 resolution, something that most 7-inch tablets don't have, which makes it optimal for people that love to play games and want to do so on a large display.
It also has access to Samsung's Media Hub which offers HD video content and the Music Hub which boasts 12 million DRM-free songs, as well as movies and TV Shows, making it a good choice for those want to be able to access media quickly and efficiently.
Read our review of the Samsung Galaxy Tab 8.9.
Barnes and Noble Nook Tablet
Will this cool off Amazon's Fire? It's possible.
Another tablet that should definitely be on your radar this holiday season is the long rumored and recently announced, Barnes and Noble Nook Tablet, the successor to the retailer's popular Nook Color.
The Nook Kindle is essentially an upgraded Nook Color in that it offers some compelling new specifications – dual-core processor, 1GB of RAM – while keeping a similar design to its predecessor. However, those upgrades make a significant impact.
The Nook Tablet is much more fluid than the Nook Color which means it will open books, magazines, and websites faster than the previous model. This makes it ideal for someone who loves to use software/apps and loves to browse the web without holdups.
It will still have that very portable and very gorgeous 7-inch IPS display, perfect for those that love their media to be in HD. It also has managed to shed some weight as it checks in at a very lean 14.1 ounces, lighter than the previous Nook. Both of these, along with the fact that it's fairly easy to hold with one hand make it great for someone that commutes or someone that likes to lounge around with a good e-book.
Speaking on content, the Nook Tablet has some pretty attractive streaming partners aboard including Hulu and Netflix, which means that Hulu Plus and Netflix will be available on the slate right out of the box.
It also has some applications for those that want access to music in the form of Pandora, Rhapsody, Mog, and GrooveShark. And it, as you might expect from a device from Barnes and Noble, has access to over 2.5 million books, magazines, comics & kids' books.
And, you can access all of this stuff without worrying about the battery life. The Nook Tablet will boast 11.5 hours (reading) and 9 hours (video) which puts it up there with the Galaxy Tab 8.9 and the iPad 2 and which makes it great for people that travel.
The Nook Tablet is also aggressively priced at $250 which means it won't put a heavy dent into your bank account.
It arrives on November 18th in Wi-Fi only form.

As an Amazon Associate I earn from qualifying purchases.