Tabletop Gaming: Microsoft Surface Blog talks to SurfaceScapes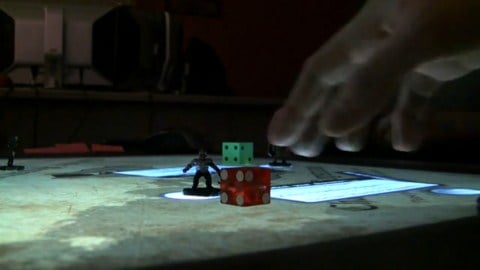 Remember SurfaceScapes, the group from Carnegie Mellon turning Microsoft Surface into the ultimate tabletop gaming system? I sent them some blog love in October? Ring a bell? If not, the gist is these guys are creating an interactive Dungeons & Dragons gaming experience on Microsoft Surface, combining the tactile experience of rolling dice and moving miniatures with the dynamic graphics of a computer game.
Well, the Microsoft Surface blog has a new interview with them (we've been told it's part one of two), talking about who's on the project, how it came about, and where it's headed. Even better, as part of their project, the SurfaceScapes team put together a promotional video that's well worth watching. Really hope to see this in action some day soon. Video after the jump, and if you still want more, there's also the demo video on their project site.
SurfaceScapes Promo Video from Surfacescapes on Vimeo.