TAKE Janus KM-S200 Sports Dual-Core 1.5 GHz CPU, But Don't Expect It in the U.S.
The TAKE Janus KM-S200 is upping the clock speed ante with the fastest dual-core CPU implementation to date on a smartphone. The Android Gingerbread smartphones will be running a 1.5 GHz dual-core chip from Qualcomm along with 1 GB RAM and a 4.3-inch qHD display that will make it competitive with the HTC Sensation and HTC EVO 3D, though the HTC competitors only come in with a dual-core 1.2 GHz CPU.
The smartphone will sport GSM/HSPA radios, though it's unclear what bands they will support. Most likely, though, those in the States should not expect to see this device hit U.S. shores.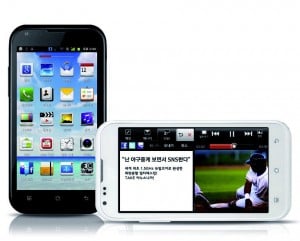 The Janus is able to capture videos in 1080p HD resolution and stills with a maximum 8-megapixel resolution. It does have a DMB-TV digital TV tuner as well. The smartphone also has SRS WOW HD audio, and for an enhanced multimedia experience, it comes bundled with Sennheiser earbuds.
A nice enhancement, which I hope more manufacturers would do, is implement a split-screen landscape orientation format. Similar to the simultasking concept on Sprint's Kyocera Echo, the split screen arrangement will allow users to simultaneously juggle tasks so they can display one app on one side of the screen and another app on the other side. The phone will be available in black, white, or dual-tone black and white, and will be priced at $740 when it launches.
Via: SlashGear