TED Finally Has An Official Android App
Over the years TED has put more than 12,000 videos on its website many of them worth watching at least once. Today, the organization behind the series of conferences released its official Android app so more users can view the videos on their phone.
The new TED Android app is available now on Google Play and the Amazon Appstore. It lets users watch all the more than 12,000 videos that TED has online. The app allows users to search for, browse, and bookmark talks. Thankfully the videos are sorted by categories and tags so you don't have to browse through all the videos to find the one you're looking for.
The app was to work on a variety of Android devices, and is specially designed for some. The press release specifically mentions the Amazon Kindle Fire and the Sony Tablet P so it will run on 7-inch tablets and the lone dual-screen Android tablet.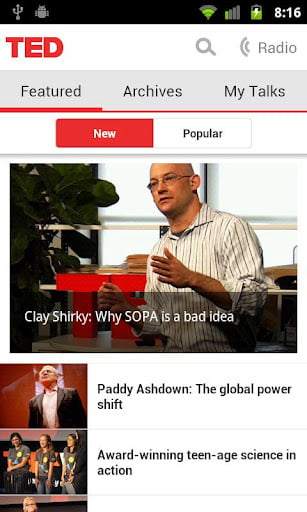 The app was made in collaboration with Sony and Mercury Intermedia, which explains why it supports the ridiculous Sony Tablet P.
This isn't the first app on Android app to show TED videos, but it is the first official one. TED isn't charging for the app, while some others are paid apps. Presumably the app is free so the "ideas worth spreading" can spread more easily.
TED also has an official iOS app, which has been out for some time now. There's no word on why the Android app took so long. Though it would probably take a long time to build in support for the range of specialty Android devices as opposed to the few iOS devices.
Via: The Next Web