TEGA V2 packing Ctrl-Alt-Del button and also Android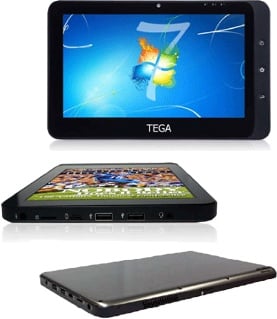 In a couple of tweets last week from a visit to the factory, friend, former GBMer, and founder of Tegatech Australia, Hugo Ortega (a.k.a. @MrMobilePC) revealed two interesting features of his TEGA V2: a dedicated button for Ctrl-Alt-Del and something called "Android".
The big news, obviously, is the Ctrl-Alt-Del button. This is essentially the only part of Microsoft's original Tablet PC spec that still sticks (as Windows will tell you when you try Ctrl-Alt-Del on the soft keyboard). A Tablet PC or UMPC should not be without one, as some folks learned back with the Samsung Q1.
He also mentioned something about Android.
finished meetings in South Korea and now headed to Narita. #TEGA v2 is on track and will offer several new accessories AND Android!!!
Hmm… a tablet that can dual-boot between Windows 7 and Android? Yeah, I guess that's worth three exclamation points.
This news ties in with an earlier report about ViewSonic's dual-booting 10-inch tablet. As noted then by commenter Giacomo, both the ViewSonic and the TEGA V2 appear to be the same hardware, no doubt ODM units from the same manufacturer. Thus, it makes sense that TEGA V2 will also offer dual-boot. And look who said then that ViewSonic should be dedicate a button to Ctrl-Alt-Del. It's comforting to know Hugo and I are on the same wavelength on these little critical details.
Side note: Never thought I'd say this, but thank goodness for redundant social networks. Would have missed this entirely were it not for LinkedIn.