Tegra 2 a Reference Design with Android 3.0 Honeycomb Tablets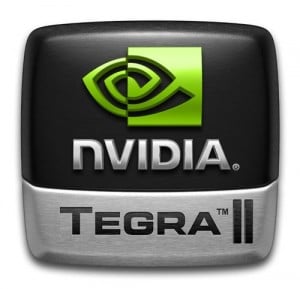 Barron's reports that an analyst believes that NVIDIA's dual-core ARM Cortex A9-based Tegra 2 chipset will be the reference design for Google's first tablet-optimized version of the Android operating system called Android 3.0, otherwise referred to as Honeycomb. The news was not comfirmed by Google, though this report may be plausible as NVIDIA is among the first, if not the first, with a commercialized and shipping dual-core CPU for mobile. Rivals Qualcomm, TI, and Samsung have announced dual-core processors as well in the future.
The Tegra 2 chipset is expected in the highly anticipated Motorola tablet, which is rumored as a joint project between Motorola and Google. Motorola and the Android OS-maker had worked together closely in the past as well to launch the Motorola Droid on Verizon Wireless, marking the historic moment when Android became a household name in the U.S. Usually, with a major revision of Android OS being released, Google will work with a manufacturing partner to set a specific benchmark. With Android 1.0, Google worked with HTC to launch the original T-Mobile G1. Motorola's Droid heralded an era of Android 2.0, which is now revised to Android 2.3 Gingerbread. With Android 3.0 Honeycomb, Motorola may be the beneficiary of Google's collaborative efforts again.
The Tegra 2 chipset is also expected on a number of phones in addition to tablets as well. The Tegra 2 was launched in the LG Optimus 2X recently, a 4-inch Android smartphone for the Asian market.
As an early player to the dual-core CPU market, NVIDIA can hold market dominance in this space much in the same way that Qualcomm had locked down the gigahertz single-core processors on mobile with its Snapdragon processor. The Snapdragon remained unchallenged on mobiles until recently with Samsung's Hummingbird CPU–introduced on the Galaxy S smartphones and Galaxy Tab tablet–and Apple's A4. There are other lesser-known rivals in the market as well, including Texas Instruments, Marvell, and Freescale. A DigiTimes reports predicts that NVIDIA may hold up to 50 percent of the dual-core mobile CPU market share.
Via: IntoMobile

As an Amazon Associate I earn from qualifying purchases.