Tegra 3-Powered Iconia Tab A510 to Land in U.S. Under $500
Acer has finally announced pricing for its updated 10.1-inch Iconia Tab tablet that will be coming to the U.S. to take on the Transformer Prime from rival Asus and the new iPad from Apple. Like the Asus tablets, the Iconia Tab A510 will be running the Android operating system–Android 4.0 Ice Cream Sandwich to be exact–and the device will be powered by NVIDIA's quad-core ARM-based Tegra 3 processor with GeForce graphics. Like the Iconia Tab A500, which it replaces, the new A510 will have the same 10.1-inch 1280 X 800 display. Acer is promising you will get all that for just $450 for the WiFi-only model, which comes with 32 GB of on-board storage.
For comparison, Apple charges $400 for the iPad 2, which comes in a WiFi-only model with just 16 GB of non-expandable memory. The new iPad starts at $500 for a 16 GB WiFi-only model.
The Acer Iconia Tab will also be able to accommodate additional storage via a micro SDHC card slot, so users can add on an additional 32 GB of memory to take the total storage to 64 GB.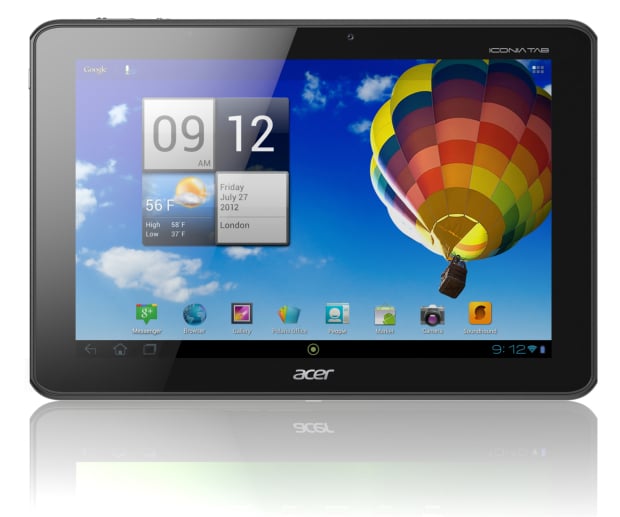 The device will have front- and rear-facing cameras and will utilize Acer's Ring interface.
The company is making bold battery life claims, stating that the Iconia Tab A510 will be able to run for up to 13 hours on a single charge thanks to the energy efficiency of the quad-core Tegra 3 processor as well as a capacious battery. That would be 3 hours more than Apple's claims for the WiFi-only model for the new iPad as well as the iPad 2, which are among the industry's leading slates in terms of battery life.
The Iconia A510 was introduced by NVIDIA first at the Consumer Electronics Show earlier this year. The model that will be released will have the circular Olympic rings on the back and will be an Olympic edition to commemorate the summer games this year.
Via: The Verge

As an Amazon Associate I earn from qualifying purchases.