Tegra 3-Powered Toshiba Tablet Gets Benchmarked
It looks like Toshiba is working on a quad-core Android tablet with Tegra 3 on-board. A tablet made by Toshiba was spotted being benchmarked on benchmarking site AnTuTu with the model number 'toshiba06.'
The tablet's performance results were on par with other Tegra 3-powered tablets, such as the recently released Asus Transformer Prime.
The clock speed on the tablet is 1400 MHz, or what the maximum is for a Tegra 3 device at this time.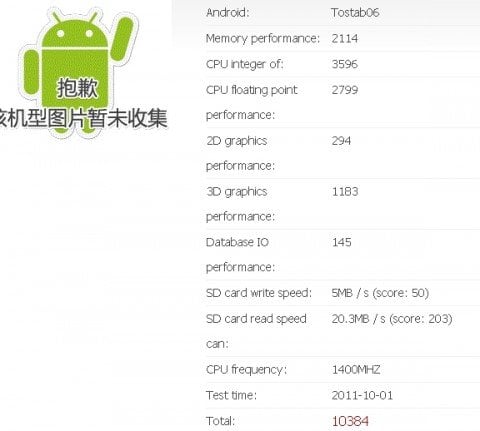 Not much is known about the tablet at this time, but maybe Toshiba will have something more definitive to show at CES 2012 in a week or so.
Via: Ubergizmo

This article may contain affiliate links. Click here for more details.