Temple Run 2: Frozen Shadows Holiday Update Released
Temple Run 2 was arguably one of the most popular mobile games in late 2012 and early 2013, and was the successor to the original hit game Temple Run. And while we've seen plenty of updates over the years, a big holiday themed "Frozen Shadows" update arrived this week for Android, iPhone and iPad.
The original Temple Run from the developers Imangi Studios was an extremely popular game that eventually was released on Android nearly a year after success on iPhone. Then in early 2013 Temple Run 2 debuted as well, which was even more popular and attracted Disney to partner with them and more. Those who are still big fans of the endless runner that inspired hundreds of similar titles, it's about to get even better.
Read: Temple Run 2 Arrives for Android
This week just in time for the holiday season Imangi Studios has released another episode for Temple Run 2. It's called "Frozen Shadows" and brings a lot of visual and other changes to the hit mobile game. While many are waiting for a new Temple Run game completely, this will have to do for now and we have all the details and launch trailer below.
With millions and millions of downloads, Temple run redefined mobile gaming in a sense, and has slowly received more and more features over time. The new Temple Run 2: Frozen Shadows has a holiday theme full of ice, snow and more.
Players will be happy to see brand new surfaces to run on, like surfing on an ice luge, running through frozen forests, unlock tons of brand new items of clothing or outfits, and we even have a redesigned scary monkey. The monkeys of course, are what we're running from, and they've been overhauled too.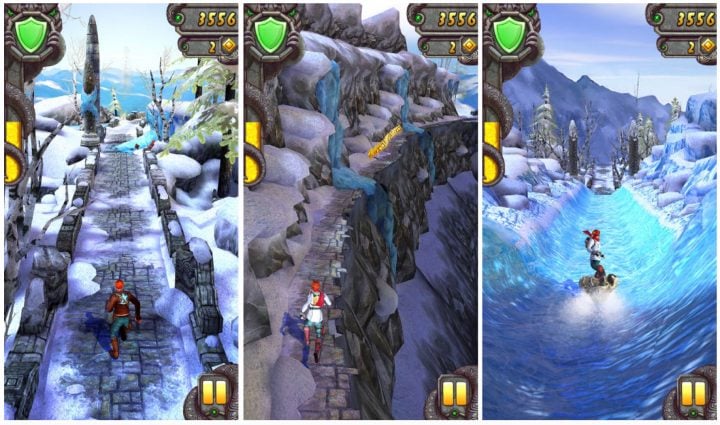 Now snowy Demon Monkeys will lurk around corners, hide behind frozen tundras and trees, or be waiting in the ice luge for runners to fall down, hit new obstacles and more. The video above gives players a good idea of what to expect, and it's certainly a big enough update to re-download this hit game, play through it again, or keep kids entertained for hours on end this holiday season.
Read: Disney and Imangi Studio Team Up for Temple Run: Brave
From the original Temple Run, Temple Run Brave, the 2nd release, and countless small updates with more features, new outfits and more, the game hasn't lost its swagger.
In fact, this is one of the biggest visual overhauls we've seen in a long time, that will bring a cold yet refreshing change to the hit title. There are limited edition cloths and outfits to collect for all your different characters if you haven't uninstalled the game. It isn't anything ground-breaking, but as we said above, should be a welcomed change for Temple Run 2 fans wanting something a little different this holiday season. In another chance of pace, try other popular titles like Clash of Clans, which is expected to get a huge update next week.
Temple Run 2: Frozen Shadows is now available on almost all platforms, and can be found for iPhone, iPad, Android devices and more. Get it today.

As an Amazon Associate I earn from qualifying purchases.