Temple Run 2 Now Available on iPhone, Coming to Android Next Week
Temple Run 2 will come to to Android in the Google Play Store and Amazon Appstore sometime next week.
Temple Run 2 is available for iPhone and iPad users now in the App Store, but users who prefer other platforms have to wait for the endless runner to reach their device of choice.
While the game will come to Android next week, there is no word on a Windows Phone release. The original Temple Run should come to Windows Phone in the near future as Microsoft announced it at the Windows Phone 8 launch in October, 2012.
Like the original game, Temple Run 2 is free and users can fully enjoy the game without paying a cent. There are a number of in-app purchases in Temple Run 2, however, which may entice users to pay for something in the game. The in-app purchases include a coin multiplier, packs of coins ranging in price from $0.99 to $19.99, and packs of gems in the same price range.
Players use the coins in Temple Run 2 to buy new characters and upgrade their abilities. Gems can upgrade specific powerups (a new addition to the game) and revive a player once they die. Each revival in a single run will increase the gem cost, however, so it's relatively easy to run out of them.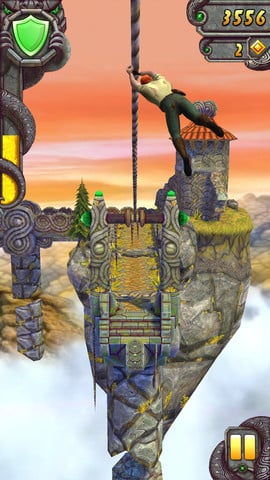 Temple Run 2 also features redesigned trails. The game is still an endless runner like the first one, but levels now include hills and stairs which make the game look nicer. The 3D terrain also means the hills and stairs obscure the path at times, which makes the game more challenging and twitchy the further the characters run.
Other new features include zip lines for Guy Dangerous and his friends to slide down and mine carts. The mine cart portions make players lean from side to side to continue with less swiping than the running portions.
So far Temple Run 2 has an average of 4.5 stars in the App Store, so players of the original game will likely enjoy this sequel.

This article may contain affiliate links. Click here for more details.