Tesla Motors Announces Country-wide Free Supercharger Network
Tesla Motors announced today a dramatic increase in the number of available Superchargers for drivers of the Tesla Model S and future vehicles.
According to Musk, "You will be able to drive all the way from Los Angeles to New York using the Supercharger network." The company will be increasing the number of metro areas covered by the network, and also increasing the density.
Tesla also announced faster charging from the Supercharger station. With the new charging stations, a Tesla will be able to be 2/3 recharged in a 20 minute time period. Along with the Los Angeles to New York journey, the Supercharger network will allow for trips from virtually every big metro area in the United States or Canada to any other major metro area. This vast expansion of charging should reduce the "range anxiety" sometimes felt by electric vehicle owners, and with a much faster charge time the breaks are similar "to that taken on a normal road trip," according to Musk.
During Musk's conference call, he also indicated that Detroit and most of the state of Michigan will be covered by the Supercharger network by the end of the year. That would definitely be symbolic in taking the electric vehicle fight straight to the hometown of the petrol-powered vehicles.
According to Musk, many consumers do not even understand that their vehicle has the capability to hook up to a Supercharger station and recharge for free. He hopes that this announcement along with better education can improve the knowledge. Even if a customer's vehicle was not equipped with the Supercharger option it can be enabled via a software update at a local service center.
Finding a Supercharger station via the navigation system could not be easier. Musk told callers that simply pressing the lightning bolt on the Model S display and it will automatically direct the driver to the nearest station.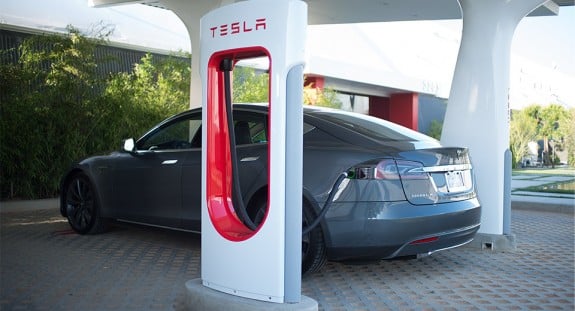 One other added benefit to the Supercharger network, according to Musk, is that the stations powered by solar can function completely off-the-grid. "Even if there was a zombie apocalypse […] you could drive your Model S across the country," said Musk. The charging stations are designed to store power during non-busy times in preparation for higher traffic travel times.
Unfortunately, the news is not good for Tesla Roadster owners. The charging system is not designed to integrate with the Supercharging system making it nearly impossible for Roadster drivers to charge at one of the stations. Expect current stations to be upgraded in approximately three months, and the massive deployment by the end of the year.