That Larger Amazon Kindle is Going to Be Used for Textbooks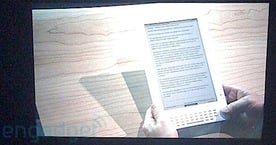 Looks like those who were hoping and speculating about a larger Amazon Kindle being used for text books will be getting their wish.   The Wall St. Journal is reporting that select students and select universities will be testing out program that gives the students a Kindle pre-installed with textbooks for chemistry, computer science, and a freshman seminar. The universities in the program include Case Western, Pace, Princeton, Reed, Arizona State, and the Darden School at the University of Virginia.
Other specs leaking out before the big announcement tomorrow is that the screen will be 9.7 inches and that the new Kindle will also have a PDF reader, and the ability to add annotations and highlights. The larger Kindle will be called the Kindle DX.
For those who were spending the day thinking this was going to be a newspaper announcement there's still news coming out there as well. Apparently the New York Times will be dropping the price of its subscription from $13,99 to $9.99. There's also this leaked picture and Engadget has more there.

As an Amazon Associate I earn from qualifying purchases.