The 5 Best Android Smartphones [April, 2013]
While the couple of months of 2013 were a bit quiet in terms of new Android smartphones, the same can't be said for month of April as two big name releases, the HTC One and the Samsung Galaxy S4, are poised to arrive next month to take on the iPhone 5 and the host of Windows Phone 8 devices from Microsoft and company.
Read: The 5 Best Android Smartphones [March, 2013].
January, February and March were rather quiet in terms of new Android smartphones. February brought the Sony Xperia Z, a device that made our best of list for the month of March but it also failed to deliver the HTC One. Instead, consumers in many regions of the world, including the United States, are going to have to wait until next month to get the HTC One.
Of course, April is also a possible release month for the Samsung Galaxy S4, a device that was recently announced and is thought to be coming to Canada, at the very least, as soon as April 19th. American carriers AT&T and U.S. Cellular will be taking pre-orders for the device starting April 16th and that could mean a release in the month of April. Sprint and Verizon have not revealed any Galaxy S4 information yet while T-Mobile will offer it starting May 1st.
Those devices won't be the only big name devices tempting smartphone shoppers in the month of April. Instead, they will be joining a large cast of stellar Android devices that have been on the market, some of them for quite some time.
While exciting, it also means that next month is going to be a complicated one for those looking to find a fantastic Android smartphone. The massive amount of options is likely enough to make consumers heads spin. That said, there are some devices that simply rise amongst the rest and here, we take a look at the devices we feel are the five best Android smartphones for the month of April, 2013.
Nexus 4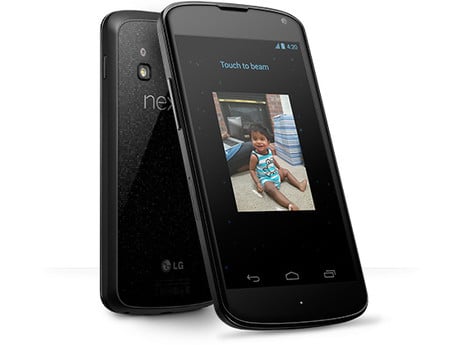 One of the most solid choices for those looking for a new Android device is the Nexus 4 from LG and Google.
Read: Nexus 4 Launch Mess Ends Four Months Later.
The Nexus 4 is the most current Nexus device from Google, a moniker given to its developer devices that come loaded with vanilla Android, quick updates and easily customizable software. The Nexus 4 also benefits from high-end hardware, a staggeringly cheap price both unlocked through Google Play and through T-Mobile and the latest Android software, Android 4.2.
Developers have also found a way to access 4G LTE data speeds through T-Mobile's network should HSPA+ not be enough to suite the needs of Nexus 4 owners.