The 5 Best AT&T Smartphones [April, 2013]
With the HTC One and the Samsung Galaxy S4 on the horizon for AT&T, April figures to be an extremely exciting month for those looking to snag a smartphone on the nation's second largest 4G LTE carrier. Of course, those won't be the only devices that are heading AT&T's direction which means that while it'll be an exciting month, it will still be frustrating for those trying to decide on which AT&T smartphone to get.
Read: The 5 Best Android Smartphones [April, 2013].
While AT&T remains the second largest 4G LTE carrier in the United States, it continues to make expansions with 2013 being the host of several. AT&T still isn't anywhere close to the more than 400 LTE networks found on Verizon, but it remains the second largest and thus, an attractive network for those looking to purchase a new smartphone.
It's also an attractive option for those already on AT&T as AT&T remains the only carrier that allows grandfathered unlimited data plan users to purchase a phone with a subsidized price and still keep their unlimited plan. Verizon forces unlimited customers to pay the full price of the phone to keep their plan.
Those looking at AT&T are also fortunate that the carrier boasts one of the better smartphone lineups in the United States with a host of intriguing devices currently available on the network. Of course, this type of selection can often lead to conflict with consumers as it means their shopping list can be cluttered with potential buys.
As is the case with all U.S. carriers, AT&T's arsenal might be full of devices, but there are smartphones that certainly stand out amongst the rest. And now that 2013 is underway, AT&T is set to replace some of its older devices with some newer models that we think will be some of the best smartphones to date.
That said, here now are what we think are the five best AT&T smartphones for the month of April, 2013.
iPhone 5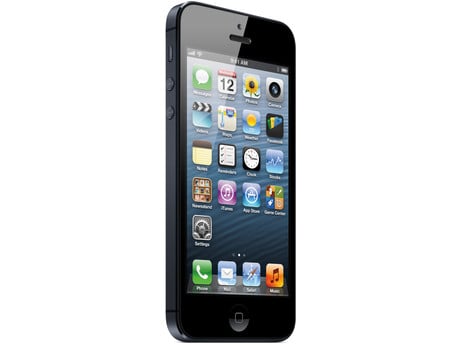 Apple's iPhone 5 remains a fixture amongst AT&T's smartphone lineup as it combines fantastic hardware with a guaranteed life throughout the duration of a contract.
Read: iPhone 5 Review.
The iPhone 5 features a slim industrial design that is paired with a 4-inch Retina Display, solid 8MP camera, and iOS 6, Apple's latest software. And while its price hasn't budged from $199.99, buyers should take solace in the fact that the device will last for a duration of any contract.
Apple tends to keep its phones updated for several years, unlike its competitors. That said, the iPhone 5 should be near the top of smartphone shoppers lists.