The 5 Best T-Mobile Smartphones [April, 2013]
With a new approach to how it does business and an arsenal of upcoming devices, T-Mobile has made a big splash in a year that is only a little more than three months old. Armed with its new 4G LTE network, new data plans and devices like the iPhone and the HTC One, T-Mobile is looking to compete against the big boys during the month of April and beyond.
Read: The 5 Best Sprint Smartphones [April, 2013].
Last year was a bit of a down year for T-Mobile as it was unable to compete with rivals AT&T, Sprint and Verizon, in part, because it had no 4G LTE high-speed network to speak of. This year, the carrier has drastically changed how it does business with the company stylizing itself as the UnCarrier, thanks to its new 4G LTE network and its off-contract policy.
Just a short time ago, the carrier abolished the need for signing a new contract on its network, instead, offering its vast array of devices without any sort of long-term agreement. Instead, the carrier is offering devices off-contract with affordable data plans attached. It has also has finally unleashed its 4G LTE network unto the world and while it is currently small, the carrier hopes to expand to cover more than 200 million Americans this year.
Those won't be the only changes found at T-Mobile USA either. The carrier is gearing up to make some changes to its already expansive lineup of devices as well with several big name devices on the way in the near future. Some, but not all of those devices will be touching down during the month of April.
And while that's fantastic, it also complicates things for smartphone shoppers. Choice is nice, but narrowing down those choices is tougher than it might appear. That said, we're here to help those that are looking for a new smartphone this month.
Here now are the devices that we feel make up the five best T-Mobile smartphones for the month of April, 2013.
iPhone 5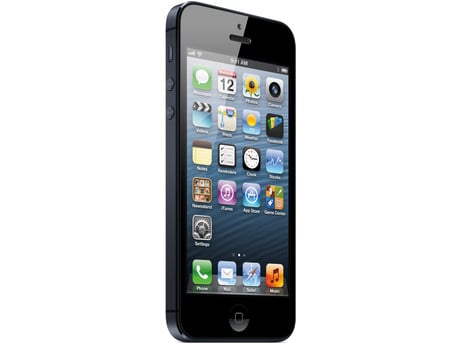 After years and years of watching from the sidelines and offering it unofficially on its network, T-Mobile will finally carry the iPhone starting April 12th when it releases the iPhone 5 for its 4G LTE network.
Read: iPhone 5 Review.
Like the other models, the T-Mobile iPhone 5 will feature a slim and lightweight industrial design, a 4-inch Retina display, speedy processor, quality cameras and iOS 6.
It will come with a different price tag than other carriers as it will be offered starting at $199 down with monthly payments of $20 for 24 months. T-Mobile will not offer it on-contract which means that consumers won't get that typical subsidized discount.

As an Amazon Associate I earn from qualifying purchases.