The 5 Best T-Mobile Smartphones [August, 2013]
As we head into the month of September, things on the smartphone front are about to get very interesting, particularly at T-Mobile which is likely to be a destination for several of these big name devices. However, there are those that can't wait that long and fortunately, the carrier has those looking to buy a new smartphone in August covered.
Earlier this year, T-Mobile did an about face, in a number of different ways. The first, it abolished contracts, shifting to an off-contract model for those looking to use the carrier's network. This is vastly different than carriers like AT&T, Sprint and Verizon where contracts are the norm.
Second, the carrier finally launched its 4G LTE network which has been making strides, though it's still a whole lot smaller than AT&T's or Verizon's which have been lived for years now.
Third, it introduced the iPhone, a device that it had unofficially supported for a long time but only recently began selling through its retail outlets. This is big as it means that other Apple devices are likely coming.
T-Mobile's transformation has made it a logical destination for many smartphone shoppers. That has also been helped by an extremely healthy lineup of smartphones that offers consumers a wide range of options including those running iOS, Android and Windows Phone. Of course, as we've pointed out, choice can also be a bad thing.
Those looking to buy a T-Mobile smartphone in August are likely going to run into problems settling on a smartphone due to the shear amount of options available. That said, there are devices that standout amongst the rest of the pack.
While we certainly recommend waiting for September and the iPhone 5S and the Galaxy Note 3, here now are the five best T-Mobile smartphones that shoppers can buy during the month of August, 2013.
Nexus 4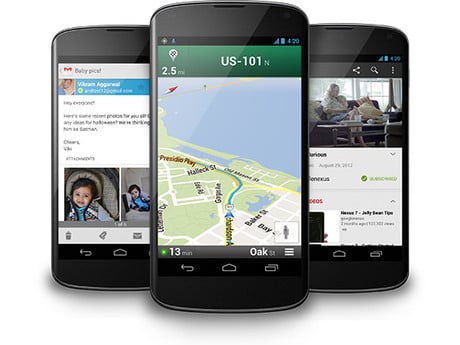 A Nexus 5 from LG or Motorola or both may be on the way, but the Nexus 4 remains a solid option for those looking to grab a device on T-Mobile.
For one, the Nexus 4 hardware remains good, even with the introduction of better specs, and it just received the bump up to Android 4.3 Jelly Bean, a piece of software that has delivered several new features.
No, it doesn't have LTE or a 1080p display, but it does have a cheap price and a good software update roadmap ahead of it. It's definitely worth a look.