The 5 Best T-Mobile Smartphones [May, 2013]
T-Mobile wasn't immune from the slow start to 2013 that plagued other carriers. Like AT&T, Sprint and Verizon, T-Mobile also suffered from a lack of new devices in the beginning of the year, instead choosing to rely on its crop from last year. Fortunately for those in the market for a new phone, that changed in the last few weeks as the carrier now has added to its increasingly attractive lineup of devices.
The new year got off to a slow start for just about every carrier in the United States. Manufacturers were slow to announce their new devices and were instead content on letting the wave of last year's releases ride out. However, in the past few months, things have heated up, and there hasn't been anywhere that's been hotter than T-Mobile.
Read: The 5 Best T-Mobile Smartphones [April, 2013].
After a quiet couple of months, T-Mobile finally started to make headway in 2013 as it hosted a launch event not only to announce its new 4G LTE network but also to introduce its new UnCarrier data plan and contract policy that eliminates the need for contracts and allows owners to simply pay a down payment for a device and pay the full cost over time.
In the weeks after, T-Mobile also finally released Apple's iconic smartphone, the iPhone, onto shelves, something that had been rumored for years but did not come to fruition until 2013.
With a new contract policy in place, a 4G LTE network that is live and set to expand soon, and the iPhone 5, T-Mobile has become an extremely attractive destination for those seeking salvation from other carriers.
Helping matters is the fact that T-Mobile, like many of the other carriers in the U.S., just released two new big name smartphones that immediately have become two of the best options on T-Mobile for the time being and in the future.
Now that the dust has settled a bit, it's time to take a look at what we consider to be the five best T-Mobile smartphones for the month of May, 2013.
iPhone 5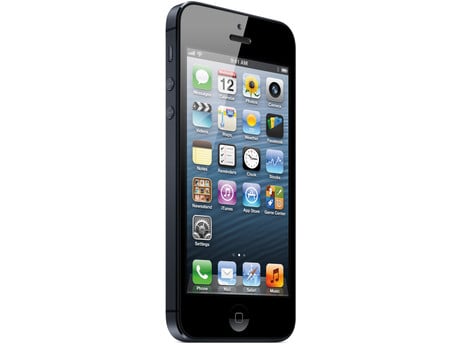 After years of waiting, T-Mobile customers finally got their wish. The iPhone has landed on the Magenta carrier, in the form of the iPhone 5, and it's unsurprisingly one of the carrier's best smartphone options.
The iPhone 5 offers a smaller design than many of the smartphones on the market right now, featuring a thin 7.9mm design and a 4-inch Retina Display. While it may be compact, it doesn't suffer from a lack of power with its processor, RAM, camera, and iOS software more than up for the task.
Best of all, Apple will keep this device updated for the years to come meaning T-Mobile customers can safely invest in this smartphone.

As an Amazon Associate I earn from qualifying purchases.