The 5 Best Verizon Smartphones [December, 2012]
Cyber Monday and Black Friday have come and gone but that doesn't mean that consumers aren't still out there hunting for new smartphones, and specifically, smartphones on the nation's largest 4G LTE carrier, Verizon Wireless. And as we approach the last month of the year, a year that was full of some stellar smartphone releases on Verizon in particular, it's time to take a look at what we consider the five best smartphones on Verizon Wireless.
Tomorrow, Verizon will release what is likely its last device of the year in the Samsung Galaxy Note 2 phablet. The Galaxy Note 2 will join an impressive lineup of smartphones that fall under Big Red's banner. The sheer amount of devices make Verizon a worthy stopping point for those looking to pick up a new smartphone, however, there are also some other factors to consider.
Read: Holiday Gift Guide 2012: Best Smartphones.
Verizon currently boasts the largest 4G LTE network in the United States, With over 400 markets available, Verizon's 4G LTE network dwarfs the networks of AT&T and Sprint which pose the biggest threat to Verizon's supremacy. For comparison's sake, AT&T's network has a little over 100 markets and Sprint's 4G LTE stretches to nearly 50. Something else to keep in mind is Verizon's high-speed 4G LTE network will be fully rolled out by the middle of 2013 while AT&T and Sprint have a bit of work to do.
The carrier is also attractive to current customers with unlimited data plans because it will let them keep their plans when upgrading to a new device. The price will be steep, an off-contract price, but at least the option is there.
That being said, it also has an impressive array of devices that will be tempting consumers in the month of December. From iOS to Android to Windows Phone 8, Verizon Wireless has it all, making a selection a fairly difficult one. Especially when most customers will have to sign new two-year contracts. So what are the phones that consumers should be looking at?
Well, we've already told you about the 5 Best Android Smartphones on the market now for the month of December, but now it's time to go a little further and look at the five best Verizon phones for next month.
iPhone 5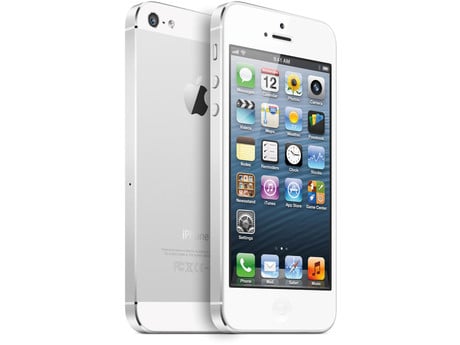 The iPhone 5 remains on this list for a second month in a row which should come as no surprise to anyone with a finger on the pulse of the smartphone market.
Read: iPhone 5 Review: A Month with the new iPhone.
Apple's latest smartphone features, for the first time, a larger 4-inch Retina Display to go along with 4G LTE high-speed data. Combined with its fantastic camera, stellar industrial design composed of metal, glass and aluminum, HD front-facing camera, speedy processor and iOS 6, the iPhone 5 is truly one of the best phones on the market.
Verizon offers the iPhone 5 in three variants with the 16GB model running $199.99 on-contract, a 32GB iPhone 5 costing $299.99 and a 64GB model commanding a price tag of $399.99.