The 5 Best Verizon Smartphones [January, 2013]
As we ring in the new year, there are already a number of high profile upcoming smartphones that have leaked to the surface. The iPhone 6, the Samsung Galaxy S4, and the HTC M7 to name just a few. And while those devices could be heading to the nation's largest 4G LTE carrier, Verizon, those who can't sit around and wait for a new smartphone on Big Red will fortunately find some top tier talent already available.
Last year proved very kind to Verizon Wireless as it cemented its standing as the United States' largest 4G LTE service provider with more than 400 markets across the U.S. covering hundreds of millions of Americans in the process. AT&T and Sprint, its biggest competition, both currently sit well below the 200 LTE market mark making Verizon a tempting destination for many consumers.
Read: The 5 Best Android Smartphones [January, 2013].
What's more is that 2012 proved fruitful as far as smartphones go as well. Verizon boasts one of the biggest and best selections of smartphones amongst U.S. carriers which makes it an even more attractive option to those looking to pair a powerful device with powerful 4G LTE data speeds.
2013 will likely be more of the same as Verizon plans to finish its 4G LTE roll out by mid-2013, well ahead of its competitors, and it will more than likely offer a host of high-end devices that customers will be able to choose from.
But what about for those people who either want or need to pick up a new smartphone right now. Those people who don't wish to wade through the Galaxy S4, iPhone 6 and HTC M7 rumors? They're in luck because, as we've said, Verizon currently has a number of high-end devices available for its 4G LTE network and many of those were released in the last part of 2012 which make them viable options for 2013 as well.
Of course, the devices that are atop this months list are similar to December's as Verizon didn't launch anything new during the final month of the year. That doesn't mean that the devices have lost their luster though.
Here now are the five best Verizon smartphones for the month of January, 2013.
iPhone 5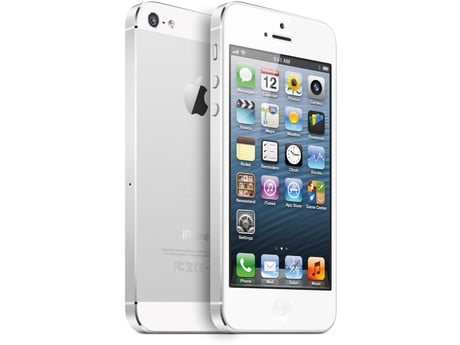 In September of last year, Apple took the cover off its latest creation, the iPhone 5 smartphone, which became the first iPhone with a larger display and the ability to pull down 4G LTE data speeds.
Read: iPhone 5 Review.
And like the past two iPhone models, the iPhone 5 showed up on Verizon, running on its massive 4G LTE network, offering a host of other enticing features to consumers as well.
The iPhone 5 possesses one of the best all-around designs of any smartphone combining glass, aluminum and metal, it features a fantastic camera, a large 4-inch Retina display, several storage options and iOS 6, Apple's most current operating system.
The device is currently available starting at $199.99 and while that price might get temporarily discounted, it's unlikely ever to see a permanent drop until the next iPhone, the iPhone 6/iPhone 5S, arrives.