The Best Cheap Waterproof Case for Your Phone and Tablet
Need to take your device to the beach, the pool, or maybe just the shower? This super cheap waterproof case might be just what you need.
When it comes to buying accessories for your iPhone, Android phone, or tablet, the sky's the limit when it comes to cost. Finding a good case might cost $40 or $50; when you add in waterproofing, the price can jump substantially.
Sometimes, however, you don't need the highest quality – you just need something quick and dirty to do the job. Thus, there are always affordable (read: cheap) cases and accessories you can buy – just do a quick search on your shopping site of choice, and you're likely to find a few. The downside is that you often get what you pay for, with the cheapest items inevitably plagued with some kind of quality control issues.
It was with great suspicion, therefore, that I ordered some of the cheap, waterproof pouches you can find on Amazon (just try searching for 'waterproof phone case', and you'll see a field of them pop up). These sorts of cases have been around for a few years now; they look like nothing so much as a very heavy duty sandwich bag.
I ended up ordering two: one was designed to fit phones with a screen size of 5.7 inches or less, and the second was designed for phablets and tablets with a screen size of 8.4 inches or less – perfect for either the Samsung Galaxy Tab S or the iPad Mini 4.
The brand I received was MoKo, but it doesn't matter – Amazon is filled with clones of these sorts of cases, each of which will have its own distinct brand. If you look at the pictures, however, you can see that every other detail is the same, from the clasps that close the device to the loops on top for running a hand or neck strap through.
Pulling the pouches out of the box filled the air with the smell of vinyl, like unwrapping a new pool float. Fortunately, it doesn't last long. The pouches are black, with a clear pane of plastic on both the front and the back. On the front, it's clear enough to read your phone, and on the rear, it's clear enough to take the occasional picture through it.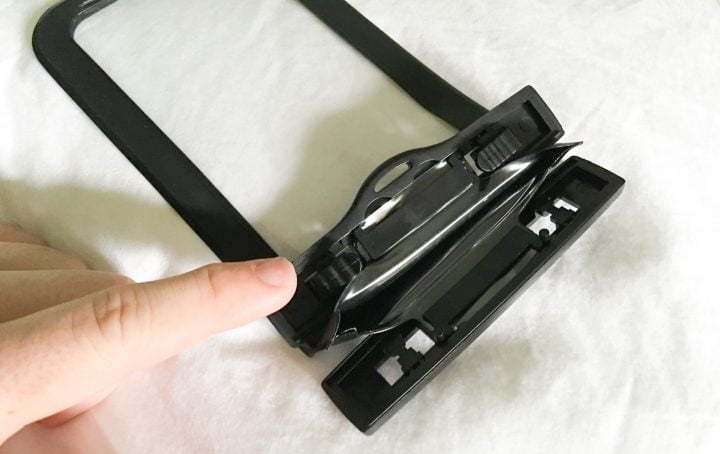 On the top is a thick plastic bar that splits down the middle. Just open the pouch, drop your phone or tablet inside, then re-close the pouch, making sure to thread the closures through their holes and tighten them for a close fit. You also want to make sure to leave a little air in the pouch – if the plastic is right next to your screen, any water that touches the plastic will activate the touchscreen. Plus, air will help make the whole thing float better, should you lose track in the lake.
The pouches come with a notecard inside that asks you to close the bags while empty and submerge them for a couple of hours to check for leaks. Living on the wild side, I didn't bother, but if you buy one for yourself, it's probably a good idea to check.
Each device works surprisingly well despite being covered by what is essentially a shower curtain. The touchscreen response is barely any different, though unsurprisingly the fingerprint sensor on an iPhone (and presumably a Galaxy S7) wouldn't work.
Should you buy one? It depends on why you want a waterproof case. If you're taking a phone into a wet or hazardous (for a phone) environment on a daily basis, skip these and buy something a bit sleeker and more phone-shaped, like the Lifeproof FRE. If you want something to keep your phone from getting too steamy in the bathroom, or to use next to the pool, however, these cheap waterproof cases are really tough to beat, considering they're only $5.95.
You can snag both the phone case and the tablet pouch from Amazon.

As an Amazon Associate I earn from qualifying purchases.