The Ergotron Workfit S is Saving My Back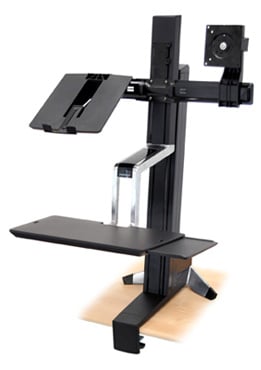 The past several years of hunching over keyboards and staring at small displays for hours on end has been very painful. As I wrote last month, I'm taking steps to improve my posture and overall health. Someone at Ergotron read one of my articles, sent over a bunch of info about how unhealthy it is to sit for extended periods and offered to send over a Workfit S, a sit-stand workstation.
The Workfit S  can just about any desk into an ergonomic workstation.  It's available in LD (light duty) and HD (heavy duty) flavors, depending on how heavy your computer is and if you use a dual-monitor setup. You don't have to reconfigure your entire office or cube to start standing at work and at $399 or less, it's less than half the cost of Ergotron's Sit-Stand workstations that come with a base.
Standing while working is a lot healthier than sitting for a number of reasons. Simply standing still burns a lot more calories than sitting. Ergotron's put together a simple calorie calculator. Someone my size (200 pounds) burns approximately 368 more calories per work day by standing instead of sitting. In other words, if I were to stand instead of sit at work for a year and ate the same amount of food I'd lose about 16 pounds.  Standing makes your muscles, joints and heart work more than sitting on your rear end.
I spent a couple of hours re-organizing my desk and installing the Workfit S a couple of Sundays ago. It took about an hour to setup and install, which is actually less than I expected considering it came in a huge box and had  a lot of parts. The instructions were easy to follow and Ergotron was kind enough to separate the screws into individual baggies, marked with dimensions that correspond to the instructions.
I installed my 22″ Gateway display on the included VESA mount and my MacBook Pro on the notebook stand. The display can swivel 360 degrees, while the notebook can slide a few inches side to side. A few turns of the bolts were all it took adjust the tension on the pulleys to stiffen things up. I mounted an Apple keyboard and an Apple Magic Trackpad on keyboard tray. The tray can flip up to get it out of the way when not in use.
One thing that I really like about the Workfit S is that there are actually two pulley systems, which means that I can raise/lower the monitor and notebook independently of the keyboard and trackpad shelves.  The entire system lifts 18 inches from its lowest position and the display and notebook can rise an additional 5 inches.
After sitting while working since my college days, working while standing is quite an adjustment. At first, it just felt odd to stand and type at the same time. But after a few days I got used to it. When I tire of standing I simply lower the Workfit S, along with my computer and monitor. I think this is a good way to ease into a standing desk. I probably would've given up on standing desk concept if I had to give up my chair cold turkey.
I've noticed that I'm much more productive when I stand instead of sitting. I just feel more alert and focused than when sitting in my comfy chair.
Like all of Ergotron's products, the Workfit S is built for professional environments. When I saw photos fo the Workfit S I was concerned that it would topple over.  But a metal plate  clamps to the bottom of the desk and two wings stabilize it up top. Another big San Francisco earthquake might knock my notebook off the workstation, but I'm not worried about anything happening during everyday usage.
Like just about every other product we see, the Workfit S does have a few flaws. While on the laptop tray, my laptop's display is slightly off level. The tray does slide side to side, but there aren't any adjustments to fine tune how laptops sit on the tray. The cross bar that supports the monitor bracket and laptop tray has sharp edges and I sliced open my index finger the first time I went to adjust it. I now grab the bottom of my display to move this part of the workstation up and down, but Ergotron should really make every surface of the Workfit S touchable considering that it's designed to be moved all about during the course of a workday. The workstation comes with a few zip ties for cord management, but it would be better if Ergotron had built-in cord management for a more polished look.
The Workfit S is good medicine for anyone that's been stuck behind a desk for too long. There's really no excuse to be chained to a chair for the better part of your waking hours. If you're suffering from back pain like I am, you should probably do something about it. If your boss won't spring for a $399 contraption to help you out, you can always put together something on your own, such as a standing workstation made out of old yearbooks and spare shelves.
The Ergotron Workfit S is available at Ergotron.com