The G1 Phone App That Warns of the Flu in Your Vicinity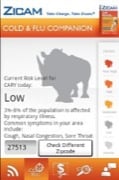 Now this is an interesting use of a mobile phone. The T-Mobile G1 phone now has an app made by Matriix (the a maker of Zicam over the counter remedies) called the Zicam Cold and Flu Companion will tell you approximately how many folks in your area are suffering from respiratory illnesses, along with what symptoms are being exhibited.
Users can also check in with other zip codes ahead of traveling as Matriix pulls the info from Surveillance Data Inc which polls health care providers and pharmacies.
Supposedly this app will be available for the iPhone in mid-December. It is currently free in the Android Marketplace and I imagine it will be for the iPhone as well. Good marketing. The app will also offer coupons for Zicam and directions to local retailers where the coupons can be redeemed. Maybe the next version will also make chicken soup and a hot toddy.
Via the AP

As an Amazon Associate I earn from qualifying purchases.