The March of Cheap Tablets at KMart Continues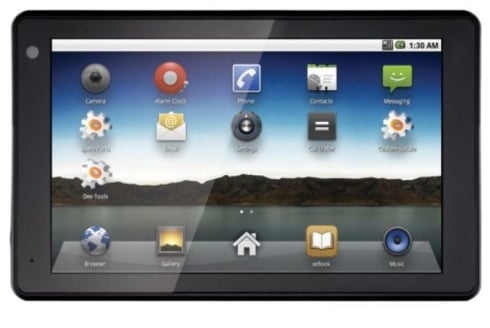 Inexpensive Android Tablet/Slates are everywhere (at least announcements of them are.) Best Buy is supposedly stocking a variety of models. KMart, Wal-Mart, and other retailers are as well. KMart started the rampage with the Augen GenTouch78 and continued it with Tablets from Viewsonic, Velocity Cruz, and depending on where you are located, others as well. (Your best bet seems to be online and not in the stores.)
It now looks like KMart is stocking the Sylvania 7″ MID Tablet Wireless Internet Device. Priced at $179.99 this Tablet/Slate with a confusing name (is it a MID, is it a Tablet?) sports Android 2.1 but there's no indication of whether or not you can access the Android Marketplace on it. Note from the picture that the typical Android buttons are not to be seen, so perhaps they are on the back. There's also no mention of what type of screen (resistive or capacitive) the device has. My guess, (and this is probably unfair) but with naming confusion like this, I'm guessing you get what you pay for here.
Ttouch Screen
Wireless Web Browsing
6 Hour Battery
7″ High Res Screen (800 x 480 pixels)
Ultra Light
512MB RAM
2GB Flash Memory
Micro SD Card(Up to 16GB)
Wifi Rieee 802.11 b/g
2 Mini USB Slots
HDMI output
Android 2.1

This article may contain affiliate links. Click here for more details.