The Rock Clock: Dwayne Johnson Alarm Clock Details
Do you want to wake up with The Rock? The new Rock Clock is an alarm clock from Dwayne Johnson, aka The Rock, that will wake you up and get you motivated towards your goals.
Whether you want to get a promotion, learn a new skill, lose weight, get out of debt or just kick-start your day you need to try the Rock Clock.
You can download the Rock Alarm Clock app for iPhone or Android to channel your inner Rock and get motivated as soon as you open your eyes.
It gets even better because you will get a message from Dwayne Johnson when you wake up and you can choose alarm tones that include The Rock singing to you.
Here's a fast look at what you need to know about the Rock Clock and how you can have Dwayne Johnson wake you up tomorrow.
What is the Rock Clock?
The Rock Clock is a new type of alarm clock from The Rock that is designed to motivate you to wake up and go after your goals.
In addition to waking you up to the sweet, sweet voice of Dwayne Johnson, the app also tracks your progress towards goals.
This is not just a novelty alarm clock app that features fancy graphics and The Rock's name. Speaking about the Rock Clock app, Dwayne Johnson explains the reasoning behind this app,
"We've spent over a year engineering this app for you. Our goal was create a free, direct, uncomplicated, cool, motivating app to help us all get after our goals and chase greatness..and always have fun along the way."
The Rock Clock is available for iPhone and Android and it is a free download.
How to Use the Rock Clock
When you first open the Rock Clock you will need to choose a goal that you want to get on in the morning.
Pick the time you want to get up and when prompted allow the app to send you notifications. If you don't enable those, you won't get an alert to wake up.
Choose an alarm sound. Try them all because they are pretty hilarious. You can also choose to get an alarm at the same time The Rock wakes up. Warning, it is early.
Make sure that you leave the app open and tap on Sleep mode before plugging your phone in and laying your head down.
Wake up to The Rock's guitar and serenade to jump-start your day. After you wake up, check out a short message from The Rock.
Rock Clock Snooze Button?
What happens when the smooth voice of Dwayne Johnson isn't enough to wake you up? Can you just hit the snooze button?
Nope. Not today Jabroni. Dwayne Johnson doesn't hit the snooze button and with that in mind there is no Rock Clock snooze button for you to tap.
Is the Rock Really Singing?
If you listen to the songs listed for your alarm options you will hear a voice that sounds a lot like The Rock.
That's because it is Dwayne Johnson, who shares, "yes, that's me really singing and playing guitar to wake your ass up ;)" in a post on Facebook.
Rock Clock In App Purchases
What's the catch? Surely there are in app purchases to get the good stuff in the Rock Clock right?
Nope, The Rock delivers this new app for free, with no added in app purchases. This is part of Project Rock. This includes gear and other items that can help you along the way, but you don't need to buy anything to use it.
Get a Rock Clock Shout Out
As part of this new Rock Clock motivational tool you can get a video shout out from The Rock.
You can track and share your goals with The Rock and with others using the hashtag #ProjectRock on Facebook, Twitter, Instagram and other social networks.
Johnson will follow and respond to some users, he says, "I'll be shouting you guys out personally via video messages on this app, so let's chase our greatness, get after it and have fun along the way."
11 Best Weight Loss Apps in 2020
Lose it Weight Loss App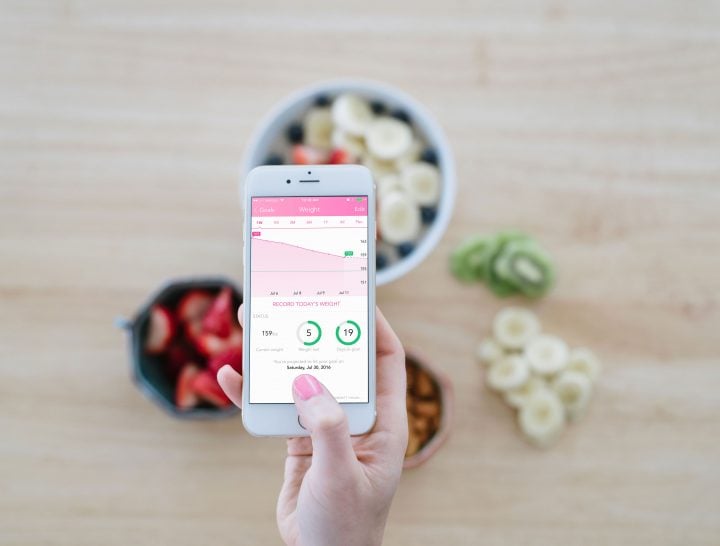 Lose It is a free weight loss app for iPhone and Android that helps you achieve sustainable healthy weight loss. This tool includes an app as well as a website so you can see your information on your computer as well.
You can connect to people, your various devices and food information that will help you lose weight with smart decisions. Lose It helps you create a personalized weight loss plan with goals that include a goal weight as well as total wellness and fitness.
The app includes access to a verified food database that helps you track your calories with easy searching, or add custom foods and you can share recipes. You can also scan a UPC to add food.
Lose It connects to other apps like RunKeeper, Nike+ and a variety of devices and scales to help you track all of your fitness data easily and intelligently. You can create goals with a group of friends, challenge friends or yourself and get support from the group to stay on track.

Lose It is free, with a $39.99 premium option that includes much more tracking, meal planning and other upgrades.