The Tablet Challenge: Using a Tablet as a Script in Rehearsal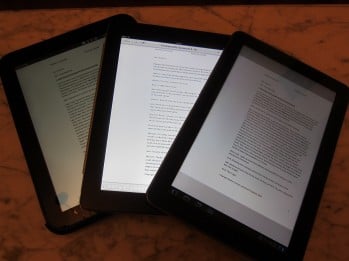 As I continue to check out the Samsung Galaxy Tab 10.1 and the HP TouchPad, along with my ongoing usage of the iPad 2, I'm about to begin an interesting two week challenge. OK, that's not being intellectually honest. This is one of those instances in my ongoing comparison testing when the the iPad 2 is going to win hands down over the other two Tablets. I know this because the set up for the challenge has already proven this to be the case.
One of the things I have been using the iPad 2 for (as well as its predecessor) is as my script when I'm rehearsing a play. Some scripts are available in a digital format (eBooks or PDFs) and many are not. So it is tough to do this unless I've got the time to scan an entire script into a PDF, which isn't often the case and the results are less than desired. But for those scripts that are available in a digital format it is a simple process. If the script is available as an eBook on Amazon, then a quick purchase and I've got it in the Kindle App. If the script is available as a PDF it's an equally simple step to drop it into iTunes and have it available in iBooks. In fact this is the only reason I use iBooks, reading and working with scripts and other PDFs this way. There are other ways to read PDFs on the iPad but I find this is my preferred method simply because moving from page to page is easier and reading the text is extremely easy to do so.
The script in question this time is an original piece that my collaborator Steve Przybylski and I created in 2009 called Southern Crossroads. It had its world premiere at Wayside Theatre where we work.  Now its about to have its second production, and that will be the first one we aren't producing. (Side note: The show is starting to get attention from other theatres and will have another production in March 2012. Here's hoping more will follow.)I will be directing and Steve will be music directing and also appear in the show as he did during the original production. We'll be doing the show at Totem Pole Playhouse in Fayetteville, PA just east of Chambersburg and just west of Gettysburg. It opens August 9 and runs through August 21. We start rehearsals on Wednesday and of course the first part of that work is blocking or staging the show, which directors do with a script in hand.
For the several shows I've worked with using the iPad or iPad 2, I've found myself much more productive in rehearsal than when I use a paper script. One of the reasons for that is actually quite silly. I'm famous (infamous?) for carrying my script around and leaving it somewhere on the set or in the rehearsal room, as I set it down to gesticulate wildly while I am giving direction. Then before we can start up again we have to do a quick search for my misplaced script. For some reason, I don't have that issue with the iPad 2. Perhaps its because it is a bit more valuable than script pages.
Anyway, as a part of my preparation for rehearsals I've been making sure that I have the script in good shape, safely tucked away in iBooks for the iPad, and also in Dropbox for the Galaxy Tab and the TouchPad. For those two devices I access the script in PDF format for viewing using Adobe Reader. (Side note: I can access and edit the original Word files on all three devices in QuickOffice if I need to do some editing.) But, like I said I already know how this test is going to turn out. Moving from page to page in iBooks is akin to turning the pages left to right in a bound paper script. On the Galaxy Tab using Adobe Reader I can achieve the same effect but the script page turning action is not as fluid. Using Adobe Reader on webOS I can only get a vertical scroll between pages and there is an occasional blur of the text as the page is being rendered. That's far from optimal. (Side note: I get the same effect with scripts I have to scan in iBooks, again, not optimal.)
Now that the Kindle handles PDF files directly, I wish they would also allow these files to appear in the various Kindle Apps on other devices. But that's not the case. (If I'm missing something here someone tell me, please.) I've tried converting the PDF files using Mobipocket Creator (Windows only) and calibre but I get unsatisfying results with formatting when I do so. If the ebook App Stanza existed for webOS or Android, I could use that App, but alas that's not an option at the moment. Stanza's desktop App will allow you to convert files but the result if I move them over are the same as described above. And besides, since most digital scripts come to me as a PDF or the ones I write are in Word, which is an easy save to a PDF, I don't need the additional hurdle of having to convert the document using other Apps.
So, while I'll give the Galaxy Tab and the TouchPad a try as my rehearsal script, I know how this test is going to turn out given the high rate of productivity I need to operate within during rehearsals.
Also, check out this companion post on a new feature in OS X Lion that allows you to use an Automator service to create an ePUB file from text.
Other posts in this series: