The Year of the Tablet is Dead. Long Live the Year of the Tablet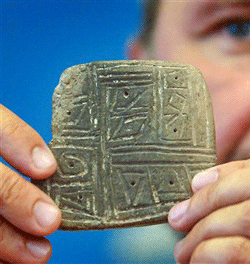 2010 is gone and so is its hyped up characterization as The Year of the Tablet. As I've said many times, 2010 could be better described as The Year of the iPad than any generic Year of the Tablet. But now 2011 is here and with it there seems to be a collective memory loss from all of those who proclaimed 2010 The Year of the Tablet back in January of the year just past.
Or is that really the case. I've been nursing a pretty severe bout with some sort of stomach bug these last few days (that makes a vacation really a downer) and I've watched some commentary pop across my RSS feeds, it seems a least a few folks have regained some sanity or some perspective about Tablets and Slates and when we'll see what we'll see that will have any significance.
With somewhere between 40 and 80 new Tablets predicted to be unleashed on the world at CES 2011 (or at least promises of same), some tech journalists are actually having some fun taking a more skeptical approach. Sascha Sagan and Tim Gideon at PC Mag are predicting "Lots of Tablets of Questionable Quality," and the phrase Island of Misfit Tablets seems to be catching on in several sources including CNN/Fortume. Frankly, I find the skepticism more than healthy. But if you've been reading my ramblings here on GBM that should come as no surprise.
Yes, we'll see Tablets at CES 2011, mostly me-too Tablets. We'll get a demo of the Motorola Tablet that looks to be the first Honeycomb Tablet with Google's stamp of approval. RIM will make some noise. HP better be prepared to make some noise with WebOS. Beyond those three, we'll see Notion Ink undergo some scrutiny with its Adam and the A's (Acer and Asus) will show off some stuff. We'll hear lots of talk about Android Tablets and Windows Tablets, but all that will be is talk until Google finally brings Honeycomb to market and Microsoft decides to actually do something with the concept it pioneered. Most of the me-too Tablets will be just that. Quick, down and dirty Tablets running Android 2.2 or earlier or Windows 7. Samsung being the possible exception here, I'd argue that those Tablets are already as stale as the beer on many a saloon floor the morning after New Year's Eve. As I said in this post, be leery about promises of upgrade paths to Honeycomb. For some it may work, for most it won't be a pleasant experience. Why? There's no real mileage to be gained in reworking things for an older model Tablet when you've got a newer model just around the corner. Just ask Samsung.
Now there's a story in Tablet land. The Galaxy Tab surprised many on a lot of levels. First, it actually seems to work very, very well. Second, Samsung sold quite a few of them. Even after they announced just shortly after the Galaxy Tab's debut that they had new Tablets coming in 2011 that would be optimized for Honeycomb. Samsung's Galaxy Tab story is the only Tablet story that comes close to Apple's iPad story in 2010. It may be the same in 2011, but we'll see what RIM, HP, and Google/Motorola have to say about that. (Note, as I'm writing this post I just saw that Verizon is dropping the price on its version of the Galaxy Tab to $499.)
2010 was certainly an interesting year in Tablet land. Apple changed the contours of the landscape in ways that we still haven't figure out yet, and those changes continue to drive other Tablet makers crazy. Regardless of who introduces what at CES 2011, everyone knows that Cupertino will soon be announcing something about iPad 2 shortly thereafter.