This is How Your Phone Connects to a Cell Tower: Sprint Shows Off Its Network Vision
Earlier this week, I got a rare access at a behind the scenes tour of a Sprint cell site where I learned about how your cell phone is able to connect to a cellular network so you can connect to friends and family with voice, data, and messaging. As part of Sprint's Network Vision campaign, the company is continuing to grow its 4G LTE network footprint, and though Sprint hasn't formally announced LTE's arrival in San Francisco, the carrier has been hard at work building the infrastructure and lighting up towers so customers in the area with a compatible phone can begin to unofficially experience Sprint's next generation network.
The Cellular Tower
In a city that's opposed to fakeness, you won't find fake palm trees disguising a cellular tower, and Sprint, which had historically opposed "faux G" networks–HSPA+ networks beguiling users as 4G–is looking to deliver LTE speeds that will benefit San Franciscans. In this densely urban setting, Sprint is working with commercial property owners to affix network equipment–including servers, antennas, and radio heads–to the top of buildings.
In fact, life as a cellular tower isn't so bad in this city. We visited a Sprint cell site with sweeping panoramic views of the San Francisco Bay, the Golden Gate Bridge, and the urban landscape. At the rooftop of this building is where the antenna rests.
The antenna will beam coverage out so your cell phone could talk to the network. However, there are often multiple frequencies that a carrier supports. Sprint operates on the 800 MHz and 1900 Mhz spectrums. The network will, along with your phone through intelligent algorithms, determine which frequency to connect to to deliver the best spectrum for 4G, 3G, or voice calling.
This is different from all other U.S. carriers, who have affixed spectrum to the type of network. For example, AT&T Mobility and Verizon Wireless reserve the 700 MHz spectrum only for 4G LTE access. Sprint doesn't do that and optimizes its network depending on traffic, congestion, bandwidth, and other factors, and channels the voice or data call to appropriate spectrum.
To do this, the radio heads, or the boxes underneath the antenna pole, will tell the antenna what frequency to send out. Each radio head is responsible for a spectrum. If Sprint gains control of Clearwire, it would add a third box for the 2500 MHz spectrum that's being used by partner Clearwire for LTE.
Servers
Once you connect to the antenna through the right spectrum dictated by the radio head, your voice or data call traffic is managed by a junction box. The box is like a server, and routes your call over cables and fiber to a data center where the data gets processed and connected.
In case of a power outage, Sprint has a backup battery that will provide about 4 to 8 hours of backup battery to the box so your service won't get disrupted. In areas where there are hurricanes or tornado, the backup battery would also be supported by an additional generator.
And though we're talking about wireless voice and data network here, Sprint says it's still making use of its long distance lines. Those underground lines route all these data and voice calls still. And where Sprint doesn't have lines, it will partner with other telecoms to connect.
Regulation
In cities like San Francisco, it may be difficult for carriers to get approval to build a cell site or cell tower. Sprint says that often times, if one carrier gets approval for a site, they'll work with other carriers and lease out the space to rival carriers so multiple carriers can cohabit the property that was approved. In this case, I saw that AT&T and Sprint shared the same rooftop with separate equipment.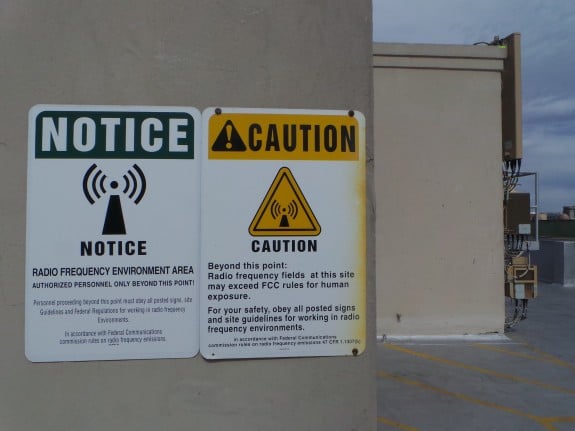 Part of this reason may be the concern with radiation that's being emitted by cell towers. Cell towers emit and transmit microwaves, which could cause adverse effects on living tissue. When we ascended to the rooftop, we noticed quite a few signs about radiation dangers and that only approved personnel should be near the equipment.
An Eco-Friendly Cell Tower
Sprint, one of the most environmentally companies in the country, is now installing new cell towers as part of this Network Vision strategy. The new equipment is not only more power efficient, but allows Sprint to save space and not have to install multiple equipment and towers for each spectrum or frequency that the network has access to. This multi-modal approach saves money and materials as well–you don't need a separate tower for the 800 Mhz spectrum from the 1900 MHz spectrum now.
And with that, Sprint would also need less towers to deliver blanketing coverage with fewer dead zones.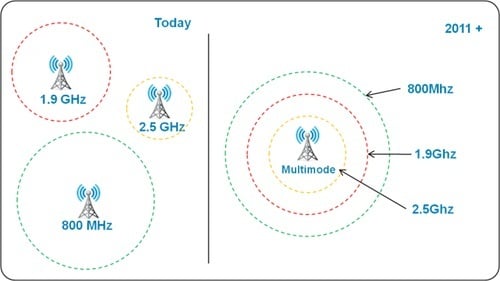 Now, one cell site handles all the different spectrum. Additionally, all the different spectrums are dynamic and not locked to any spectrum. 4G can be used on either 800 or 1900 MHz frequencies, as can 3G and voice. This is a unique approach that Sprint is championing.
Moreover, Sprint will start tearing down old equipment that was used by its Nextel iDEN network, which will get shut off on June 30th. The old equipment will get torn down and recycled.
LTE Speeds
So how fast does Sprint 4G LTE perform? The carrier is giving a modest 6-8 Mbps download speed quote, but around the cellular tower, Sprint phones were getting speeds around 20 Mbps on the download side and between 8-10 Mbps on the upload side. We'll have to wait until the network formally launches LTE in the Bay Area and revisit these speedtests to see if they hold up. For now, though, it's pretty impressive speeds for those who have 4G phones and early access to Sprint's network.