Thoughts on the iPhone 4 Announcement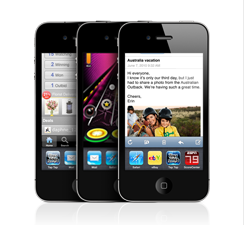 First, to answer Sumocat's question from an earlier post, I'll be getting a new iPhone 4 32GB in black. Now that is out of the way, here are some thoughts on the announcement today.
I didn't get the opportunity to watch today's keynote the way I usually do, and setting back and reading the coverage after fact offered me a change to digest things differently. Whether or not that really means anything, who knows. The big news out of the announcement comes in three categories: The name change, design and innovation, and the camera. I'll take them one at a time.
The Name Change
Changing the name from iPhone OS4 to iOS4 or iOSx, and then adopting that moniker going forward is a bold statement. Apple is betting that the chase is more about the entire mobile space that includes Tablet/Slates. Apple's iOS will be working on iPod Touches, iPhones, and iPads for the foreseeable future and any new iDevices (the not-mentioned Apple TV update?) in the future. Everyone wants to play numbers games, and Apple is the only company at the moment that can lump all of these devices into one big number. That's imposing and impressive, especially when they don't need to do it, given the success of the iDevices that run or will run iOS4. Call it a moving goal line that Apple wants to keep moving way ahead of its competitors. As many have pointed out, there is a trademark issue with the name iOS as Cisco seems to own it. But I think the same thing was true about iPhone, and we all know how that worked out.
Design and Innovation
For better or for worse (I think mostly for the better) Apple thinks it has it right with how it sees these iDevices and it's "all under one roof" strategy looks to pay more dividends with the iPhone 4. Only a few journalists and bloggers have gone hands on with the device and they all are remarking positively about the design of the device. I'm not just talking about it being thinner, and having a screen with more pixels than can almost be imagined. I'm talking about how the device looks and feels in hand. Apple knows what it wants inside (software) and out (hardware) on these devices and works to achieve that. Their choices aren't always the best in my opinion, but they have a coherent design philosophy behind them that is more than evident, and they aren't afraid to innovate and make changes that aren't incremental. They also appear not afraid to hold back until they feel like they have it nailed. I have to admit the line about an intersection of liberal arts and technology gets me every time as a marketing line. I have to also say that I think Apple is serious about that mission and it shows. I'll admit, it took the iPad to make me really get this, but then I'm guessing Apple is comfortable if other user see it the same way. Michael Gartenberg seems to have gone hands on with the device and has some interesting thoughts that are similar to mine.
The Camera
This could easily have been lumped under the previous category of Design and Innovation but it deserves a special mention. Apple has moved passed the "how many megapixel game" and seems (time will tell) to be focusing more on what makes a good picture, beyond the marketing ploy of upping the megapixel count. The 3GS hinted at this with some of the camera features, but the iPhone 4 looks to move this higher up on the agenda. It also might finally put an end to the silly marketing game of counting megapixels.
Is the iPhone 4 going to be a winner? I'm guessing so, especially since AT&T is giving lots of folks a chance to get the upgrade price ($199 for 16GB or $299 for 32GB) by changing eligibility. There's still a sniff in the air out there that we might see the iPhone on other carriers sooner rather than later, and AT&T's move might be viewed as a way to corral a bunch of sheep before someone opens the pasture gate later this year. In any case it will probably work.
I stated earlier that Apple would have to take some large strides to stop the encroachment that Google was making with Android. In fact I said it might be the first time that Apple was playing catch up after the recent Google I/O conference. Too early to tell if the promises we're hearing about to day will counter what still seems like a lot of momentum for Android, but the promises sound impressive. I'm sure when the new iPhones roll out on June 24 we'll start to see lots of comparisons with the Android competitors and that will be when we start to get a clearer picture of what the next year will be like in the battle for mobile supremacy or "if this changes everything."

As an Amazon Associate I earn from qualifying purchases.