Threatened by Google, Motorola Deal, South Korea Turns Domestic for Mobile OS
Given the growing importance of mobile smartphones as not just a means to communicate, but also to deliver an entire new ecosystem and monetize various aspects of that ecosystem, South Korea is now feeling threatened by the strong growth behind U.S.-based Apple's iOS and Google's Android operating systems. The government, like the Chinese, is hoping to turn to its own home domestically to create its own domestic OS to rival the American counterparts.
Though supportive of Android–which has given home-grown Samsung Electronics a huge boost in recent years to capture a large chunk of the smartphone market share–in the past, South Korea seems to be responding negatively to the recent Google and Motorola announcement, in which the OS-maker had announced its plans to acquire its hardware partner. Though Google's partners, which included South Korean-based LG Electronics and Samsung Electronics (Samsung Mobile), had publicly responded positively to the news, citing that the acquisition of Motorola will help Google strengthen its patent portfolio to the benefit of everyone in the Android ecosystem, South Korea may be re-thinking the potential long-term impact that a windfall for Motorola may have in the future of its companies.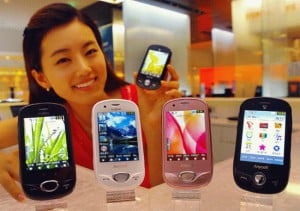 Deputy minister at the Ministry of Knowledge Economy Kim Jae-hong expressed at a recent press conference, "We plan to develop Korea's own web-based operating systems by forming a consortium of local companies. We will forge ahead in developing a new kind of operating system, which is being seen as a next-generation product, in order to build the kind of advantage we do not enjoy in the market for smartphones and tablet PCs, which is dominated by Google and Apple."
Given that long-existing mobile OSes have been struggling to maintain market share and relevance in this ultra-competitive industry, it's unclear if South Korea's moves will make any meaningful impact beyond its home-grown roots. HP had shuttered hardware development for webOS, despite industry accolades behind the platform, due to stagnant sales, and Research in Motion is struggling to stem off market share losses behind its BlackBerry platform. Even market-leading Nokia had abandoned plans to support Symbian and MeeGo in favor of a struggling Windows Phone 7 operating system.
In order for South Korea's platform to succeed, it would need to gain enough momentum to attract enough developers.
Via: Phone Arena