TI Announces Multi-Core ARM OMAP 4 Chipset for Windows, Android Tablets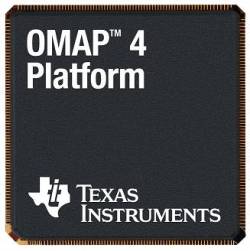 In addition to Qualcomm's quad-core Snapdragon coming early 2012 and NVIDIA demoing Kal-El running Windows 8, Texas Instruments' multi-core chipset will be competitive with its rivals' quad-core offerings using a hybrid architecture that will lead to better energy efficiency and lower power consumption. The TI OMAP4470 chip is expected to land in the first half of 2012.
The architecture is interesting, though, and the chip is clocked at 1.8 GHz. It will utilize two ARM Cortex A9 cores at 1.0 GHz clock speeds, and integrate that with two ARM M3 cores clocked at 266 MHz for handling multimedia functions. The company will also incorporate support for PowerVR's SGX544 graphics engine to deliver powerful multimedia performance for supporting Direct X 9, OpenGL ES 2.0, OpenVG 1.1, and OpenCL 1.1.
The multicore OMAP4470 processor surpasses current market solutions with clock speeds up to 1.8 GHz, an 80 percent increase in Web browsing performance, increased memory bandwidth, a 2.5x boost in graphics functionality-via the POWERVR™ SGX544 core from Imagination Technologies-and a unique hardware composition engine. Mobile computing and gaming applications running on operating systems such as Android, Linux and the next version of Microsoft Windows will benefit from the OMAP4470 processor's enhanced capabilities.

Additionally, the Texas Instruments chip can support a QXGA 2,048 X 1,536 resolution display and up to three additional display sources. The chip could be used in Windows machines, Linux, and Android smartphones and tablets.
The chipset will be sent to manufacturers to sample in the second half of 2011 and will be delivered in devices by the first half of 2012.